When Travis Wittlake Sr. got his son involved in wrestling at a young age, his hope was his son would one day wrestle for OSU.
But all those years ago, he couldn't imagine exactly which OSU it would be.
"When his wrestling career first started, our dream was to wrestle at Oregon State," Wittlake Sr. said. "We didn't know he was going to be good enough to be one of the top recruits and go to one of the best programs in the country."
On Sunday, Wittlake Sr. was wearing OSU wrestling apparel cheering on his son Travis Wittlake Jr. But it wasn't at Oregon State, it was in historic Gallagher-Iba Arena for Oklahoma State.
Wittlake Jr., a redshirt freshman for the Cowboys, was making his home debut for the most historic college wrestling program. And his father made a point to travel halfway across the country to be witness to that moment.
"It was pretty important for me. I don't know if it was important for him, but I'm sure he loved me being here," said Wittlake Sr. in the lobby of Gallagher-Iba Arena. "I don't think it affected his winning or losing. It was important to me, though, because it was his first start at home, and I wanted to be here for it."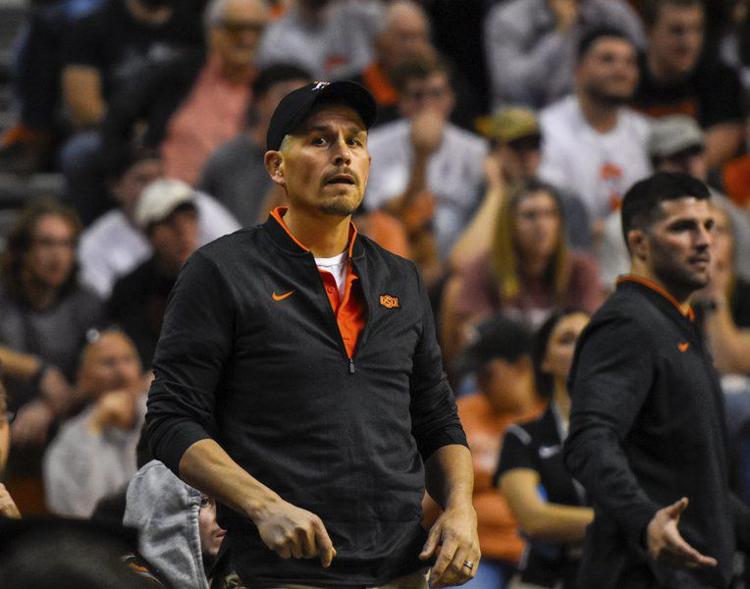 His father's presence may have had a little impact on the performance of the young Cowboy.
Wittlake Jr. found himself down early in his match at 165 pounds, before a third-period rally clinched a 5-3 decision and his seventh win of the young season.
"He's just been with me my whole life and now he gets to come see me wrestle in college and it's just awesome to have him here," Wittlake Jr. said. "I'm glad I got a win. I think he's proud, and just happy he's here."
The moment was a distant dream for the father and son growing up in Coos Bay, Oregon – a town on the Pacific Coast that is nearly a four-hour drive to Portland. Wittlake Sr. said they tried to get his son on John Smith's radar at an early age – "I'm sure everybody does though."
But his wrestling eventually got him on the map. He was a four-time Oregon state high school champion, and a four-time youth wrestling All-American – winning the Fargo Nationals in Greco and finishing third in freestyle in 2015, before sweeping Fargo Nationals titles in Greco, freestyle and folkstyle in 2016. He was a member of the 2016 Cadet World Championships, where he won a bronze medal.
"My wrestling career just kind of took off out of the blue," Wittlake Jr. said. "I started experiencing success here and there and I just kept jumping levels, and kept traveling – going to bigger and better tournaments, and kept doing well and being successful.
"That's when your level of expectation rises. The better you do, the more you expect out of yourself. So I was winning big tournaments and expecting more and more each year, and I think that's why I'm here today. I started holding myself accountable and recognizing where I needed to be to be here right now, instead of a school that is not as successful."
His first year in Stillwater was certainly an adjustment period for the West Coast kid.
His father was his wrestling coach growing up – from youth wrestling all the way through high school. And when Wittlake Jr. redshirted last year, he was limited to competing in open tournaments where he compiled a 16-2 record at 174 pounds.
"It was real hard on me, because he hasn't been away from me his whole life until he came here," Wittlake Sr. said. "But he took it well. I never missed a match until his redshirt year – that was tough on me."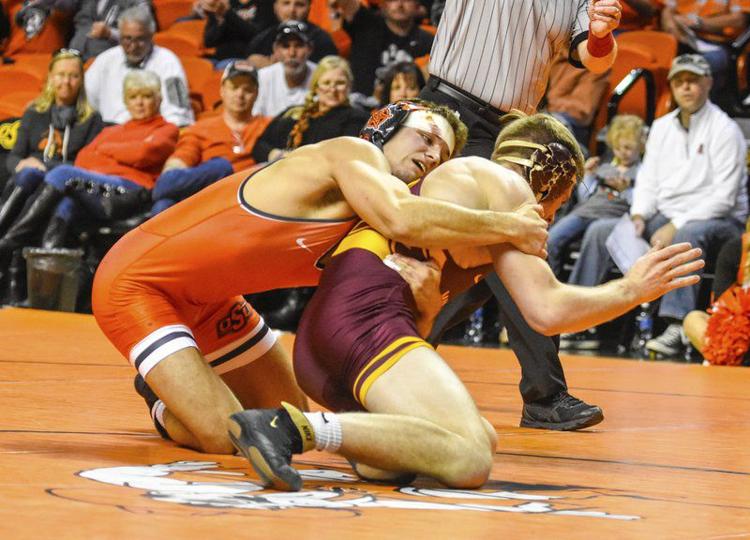 Being 30 hours from his son – or a half day away by plane – meant Wittlake Sr. had to depend on wrestling websites to keep up with his son's start to his college career. Which could prove difficult at times with the matches being limited to some of the smaller college tournaments.
"It was different not having him there. But it was something I had to acclimate to, adapt to, that he's not always going to be here," Wittlake Jr. said. "He's 30 hours away, that's a long ways. It was something I had to adapt to, but I knew he was always back home watching on something – he was live-streaming it somewhere. And he was texting me constantly, telling me good job after a match. So I know he's always behind the phone or somewhere there supporting me."
So when Wittlake Jr. earned his spot in the starting lineup for Oklahoma State this fall, his father decided it wouldn't just be from behind a computer monitor or phone that he would support his son.
He flew to Oklahoma to take in his home debut against Minnesota, and turned right back around and flew back to Oregon the very next day.
But neither father nor son would have wished it any other way.
Because with Wittlake Jr.'s rally, both got to experience the euphoria of having the Cowboy fan base raining down cheers inside Gallagher-Iba Arena as he had his hand raised in the center of the mat.
"It was amazing. We watched that stuff on TV," Wittlake Sr. said. "We live pretty remote – Oregon is remote, but our area is really remote – so people really don't get it. What they see on TV, is what I just experienced.
"To be a part of that is pretty amazing, especially coming from where he was coming from – a small town and a small school. It's like a dream come true for me and him."
The plan is that won't be the only win Wittlake Sr. witnesses in Gallagher-Iba Arena. He intends to return to Stillwater for all of his son's home duals this season – with seven still on the schedule – as well as making it out to the Southern Scuffle in Chattanooga, Tennessee, at the start of the new year, getting to the Iowa dual at the end of the wrestling season and attending both the Big 12 Conference Championships in Tulsa and the NCAA Division I Wrestling Championships in Minneapolis.
"It's awesome to have that support from your family members. There's some people in this world who don't get that support, and there's some people who could have that support but their family doesn't care enough to give them that support – and mine does," Wittlake Jr. said. "… With that support, comes opportunity. When you have an opportunity, you can't waste it. So right now, I feel like at OSU – a Division I, huge university, huge wrestling school – I have an opportunity of a lifetime, and it's a short period of time. And I've got to take advantage of it now, because the time is here, the time is now and it's time to take advantage of this opportunity."