Sophomore Yor Anei was all smiles, clapping and cheering for his team each time it scored a bucket or made a big play during the Mike Boynton Basketball Camp this week at Gallagher-Iba Arena.
One court over, freshman Marcus Watson wasn't shy about giving his players high-fives after each basket. Sophomore Dee Mitchell, a mid-season walk-on last year, also had fun celebrating his team's success at the first Boynton camp of the summer.
It began Monday and ended Wednesday, and was held for young hoopsters entering first- through sixth-grades. The campers weren't the only ones having fun, though.
"I have a lot of fun, because I really like kids," Anei said. "I imagine myself as a big kid. And, I like seeing kids get better, so I have a lot of fun.
"I was encouraging them to score. I would tell them to pass the ball, and it made me happy when they listened to me, especially when they would score, too."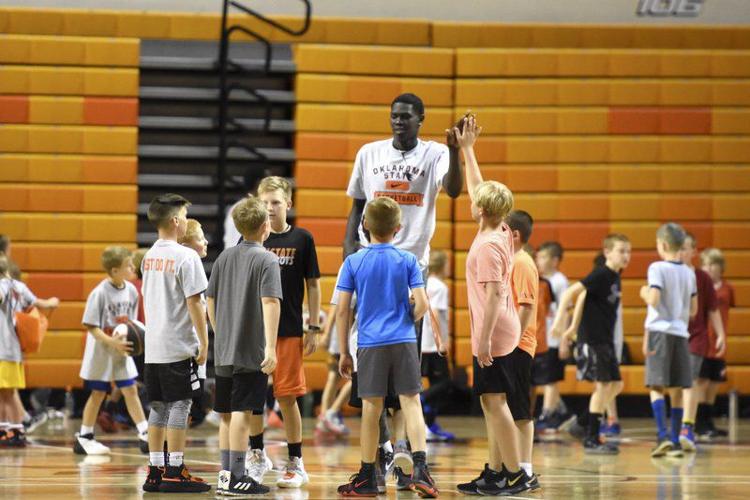 Oklahoma State men's basketball coach Mike Boynton laughed when talking about Anei's excitement during camp. He said Anei and fellow sophomore Isaac Likekele let their inner child out during the three-and-a-half hour camp each day.
"He has a good time out there," Boynton said of Anei. "Ice, who missed a couple hours because he had some other stuff to do, is a big kid out here. And then our freshmen, they aren't that much older than some of these kids.
"They get into it. They get great joy in putting smiles on these kids' faces. It makes me really proud to be their coach."
The OSU players juggled being camp staff members while taking summer classes throughout each morning of the camp. But being a part of the camp and giving the young hoopsters something to aspire to be is the one thing Boynton wanted his players to take away from the event.
"It's one of the most important things we do is show people in our community and people who support our program that their kids who look up to our players are going to have good role models," Boynton said. "Our guys were those kids at some point. I'm sure they went to a camp, so I'm trying to make sure they treat the kids the right way and give a good example of how to do things, how to behave and how to work."
Freshman Avery Anderson, who said he knows he's a role model for young basketball players, it was a memorable experience. The Justin, Texas, native moved to Stillwater on June 5 – just a few days before camp started – and he was happy to take part in his first team activity around local children.
"It was amazing being a part of that, and helping the kids get their skills up," Anderson said. "Just being with my team and having a good time with them was fun, too."
When Anderson and the other Cowboys weren't at camp, they were busy with workouts and lifting weights. Thus, Boynton joked the camp was enjoyable for the newcomers because it wasn't stressful on their bodies.
"It's a good little break for them, though," Boynton said. "Other than these three hours of camp, it's pretty much non-stop work for them right now."
Anderson agreed.
"It was a good break we needed," Anderson said. "Coming in and then starting off hard, we're all sore. We just needed a fun time to be with the kids."
This summer marked the third-straight year for the camp since Boynton was named coach of the Cowboys' program. He said it's grown from about 50 campers in 2017 to around 70 in 2018 to more than 100 this week.
Boynton was pleased with the increased participation, because it means there is increased interest in the program. But more importantly, he said, it means those children's parents want to send their kids to be around the Cowboy basketball team, which ensures him the program is headed in the right direction.
Like most camps for young players, it focused on fundamentals, while having games and competitions for the players.
"The basics, especially for the little guys – those 6 and 7 year olds," Boynton said. "We don't want to overdo it in terms of the physical competition, but we want to teach them how to play, so that when they get older and more physically capable, they can play the game the right way."
Anderson said the OSU players tried to teach their teams more in-depth skills.
"We had a blast teaching them the triple-threat position or what they could use on defenders," Anderson said. "We also taught them shooting drills, defensive drills. It was just fun coaching with them and being with them."
This year's camp was a bit more special for the third-year OSU coach. His son Ace, who will be entering first grade, was a camper this week.
"It's really, really unique," Boynton said. "I'm not around him as much as I'd like to be, so any time he can come be involved with something in our program like this, and kind of be himself because there are other guys his age – and doesn't feel super intimidated by the size of people anymore – it's awesome to watch him grow and be a part of our camp. It's pretty special."
In the end, the Cowboys hope the campers had a good three days of basketball. Anei hopes he passed on a positive message about sports and competition to the young players.
"I hope they all leave with the idea that it's a game and you should have fun," Anei said. "You should not play with a lot of pressure on your shoulders. You play the best when you're having fun."