Cade Cunningham is Motown bound.
He made history Thursday night, becoming the first former Oklahoma State men's basketball player to be selected at the No. 1 pick in the NBA Draft.
Cunningham was projected as the top pick in this year's draft, and it was made known Thursday afternoon the Detroit Pistons would select the 6-foot-8 former Cowboy who spent one year in Stillwater.
"I think it will be Cade Cunningham's night he got drafted by the Pistons, because when people look back, that will be the start of whenever the Pistons restored their franchise and brought greatness back to the city," Cunningham said when asked about what Thursday night will be remembered for years down the road. "That's my whole goal stepping into Detroit."
OSU coach Mike Boynton, who began recruiting Cunningham when he was a freshman in high school, was in New York City with his star player for the draft. He talked numerous times about how Cunningham should be the top pick in the draft during the season, and once more when the Arlington, Texas, native declared for the NBA after the Cowboys' season ended.
"To be able to recruit a young man like this and put him in position to achieve his ultimate dream of becoming a professional basketball player at the highest level," Boynton said. "There's no doubt in my mind that he's going to be a great pro, because he's already been a great pro as a freshman in college. We're excited about this next step for him and his family, and we'll be cheering for him forever."
Boynton also took to Twitter to celebrate the program's highest draft pick.
"And with the FIRST pick…. Hell Yeah Cowboys Fans!!!! #LetsWork #GoPokes," Boynton tweeted minutes after Cunningham was selected.
The previous highest selected former Cowboy was Bob A. Harris in 1949. He was picked third overall. In 2014, Marcus Smart was selected No. 6, tying Bryant Reeves' pick in 1995 and Joe Bradley in 1950.
Cunningham's former teammates gathered at Eskimo Joe's for the draft watch party. They – along with a couple hundred OSU fans – erupted when Cunningham was announced as the No. 1 pick.
"It's dreaming becoming a reality, literally," OSU sophomore Rondel Walker said. "All of those late night talks in the hotel rooms, away games and practices. It's tough to do all of that and be the No. 1 pick today, but it makes it that much more special."
Walker said he talked to Cunningham on Wednesday, and had a simple message for him.
"I just told him how proud I was of him," Walker said. "All of the things coming to him, he deserves, because he put the work in for it."
OSU junior Kalib Boone was thrilled for his former teammate. Boone admitted he always watches the NBA draft, but this year's was more special.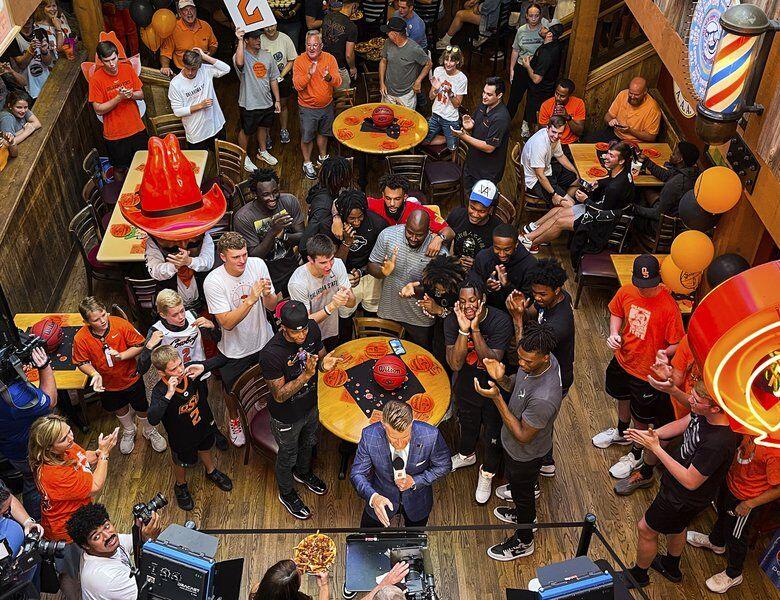 "This is top, No. 1, because Cade is my dog, man," Boone said. "I never played with a No. 1 draft pick, so seeing one of my former teammates be the top draft pick – nobody can top that. The only thing that could top that is if I go No. 1."
Boone and Walker enjoyed the energy and support inside the iconic Stillwater restaurant.
"The atmosphere here is what you see in every sport over here," Boone said. "You could name every sport at OSU, and they're going to show love, regardless of it's it somebody going to NBA or NFL or MLB. You name it, they're going to show love, and that's why I love this school."
Cunningham became the second former Cowboy to be taken by the Detroit Pistons. Jim King was selected in the fourth round of the 1965 draft.
Oddly enough, Harris was also taken by the Pistons – the Fort Wayne Pistons – in that 1949 draft.
Cunningham will be joining a young Pistons' squad that finished this season with a 20-52 record. He is excited to join a youthful team.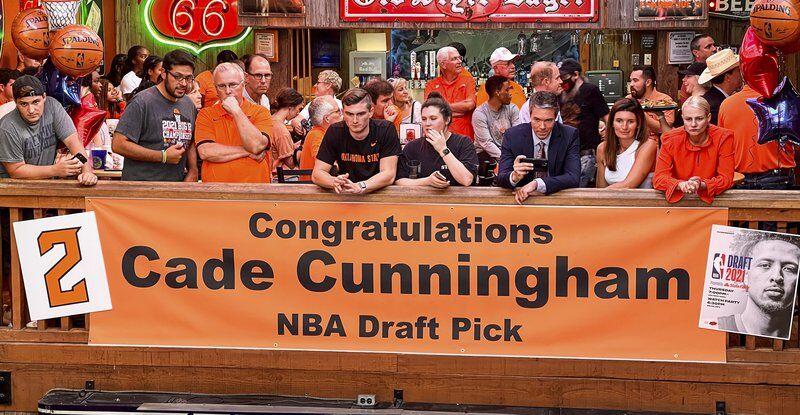 "Last year, Detroit had a great draft, I feel like," Cunningham said. "Getting two all-rookie guys is huge, and it's a great young corps that they already have, along with Killian Hayes, who is coming off of injury and he'll have a big year this year. I'm excited to be able to join that young corps and grow together with them. I think that's the biggest thing – I want to hop right in and contribute to the mentality they go into games with.
"They want to defend and they want to play hard, and that's what I want to come in and provide for them, as well. … Detroit Pistons has always been about grit and working for everything that they have. If you look back on those 'Bad Boys' teams, that's what made those teams great. I want to bring that mentality to the team."
Cunningham started 26 of the 27 games he played this year. He averaged 20.1 points per game, shooting 43.8 percent from the field and 84.6 percent from the free throw line. He also led the Cowboys in 3-pointers made, shooting 40 percent (62 of 155) from long range.
He was the Cowboys' second-leading rebounder, grabbing 6.2 boards per game, in addition to more than three assists per contest.
Cunningham's highest-scoring game came in the first of back-to-back Bedlam contests against rival Oklahoma. In Norman, he dropped 40 points on 12-of-21 shooting and 13 of 14 from the charity stripe in an OSU victory.
He was named first-team All-America selection by the Associated Press, USBWA, NABC, The Athletic and USA Today, and was also the Wayman Tisdale Award winner as the nation's top freshman. Cunningham also became the fourth player in league history to earn Big 12 Player and Freshman of the Year honors in the same season.