It is a sport that once you see one game of, you're hooked. Although the professional league is gaining in popularity, the college atmosphere is the big show for many players. Every team's goal is to make the Women's College World Series in Oklahoma City and for a school in the Sooner State that isn't the Sooners, it means more to Oklahoma State.
It has been documented what coach Kenny Gajewski and his band of players have done every year to bring the Cowgirls from the depths of the Big 12 Conference back to a top-15 national program, but what about the people behind the scenes?
What brings someone from across the country to Stillwater and has them work to make OSU softball a program people can be proud of? There are a lot of reasons for the people who primarily work in the shadows and it takes a lot of dedication to get the Cowgirls to where they are now.
From the administrator to the grounds crew, here are the stories of the people who bring the OSU softball program to life each and every day.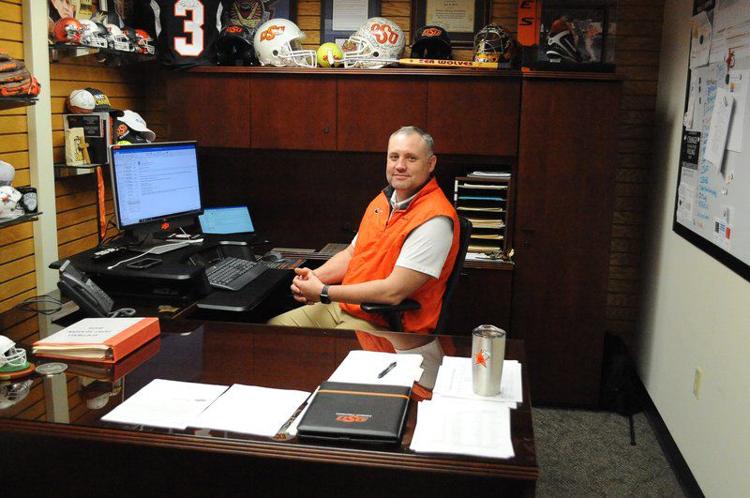 "Life-changing event"
Jesse Martin was watching the waterline creep up to his house, counting his blessings he still had a home when there were slabs all around him.
A general manager for the Mississippi Sea Wolves at the time, Martin watched as Hurricane Katrina tore through the Gulf Coast and Biloxi, putting the team's season on hold and his career in question.
Martin, the senior associate athletic director and sports administrator for Cowgirl softball, didn't know his life was about to change.
Weeks before that, he was meeting with the brass of the NHL's New York Islanders, who the Sea Wolves had just partnered with. He and his wife Ashleigh's time in Biloxi, her hometown, looked to have a good future.
Then like so many others in 2005, Katrina put that future on hold as the Sea Wolves stopped operations and would go out of business a few years later. Before that happened, Martin heard about a job offer at OSU. It was a step down, but it was a job.
He and his family packed up their life and left their house, which had staved off flooding by only two inches, to move to Stillwater and Big 12 Conference country.
Martin had grown up in Madison, Kansas, a small town in the Flint Hills where Martin grew up working in the wheat fields and grain elevators with his father. Like most schools in farming communities, the athletes played very sport and Martin was no different as he played football and basketball.
His dad didn't want him to end up wearing out his back in the wheat fields so he told Martin to get into the technology side of things and get a better life.
At first, Martin wanted to be an X-Ray technician after seeing what the radiologists did when he went to them with a Staph infection in his shoulder. While attending Hutchinson Community College, he realized after going through clinicals that maybe he didn't want to be doing X-Rays every day.
Soon, he transferred to Fort Hays State, a school on the forefront of the computer age at that time, and went into business marketing, earning an internship at Disney World in Orlando, Florida, where he met Ashleigh.
From there, they went to Biloxi and the Sea Wolves in a sport that Martin knew nothing about.
"Why I worked there, I owned a pair of skates and we would get together after work and play a little two-on-two and we called it the khaki hockey league," Martin said.
The Sea Wolves were doing well and Martin was learning the business of how a sports program runs. Then came the fateful fall of 2005 and Hurricane Katrina.
Martin heard about the OSU job from then-basketball administrator Joey Biggs, who Martin had played AAU ball against growing up in Kansas. He came on board in 2006, and eventually worked his way up to his current position over a sport he didn't really know much about before OSU.
Day-to-day, his role changes as there is no checklist. Martin is the one who has oversight of the decisions affecting the softball program, such as the budget, putting in bids for a regional tournament and special projects such as the N7 uniforms the Cowgirls wear for Native American heritage, among other things. He is also the liaison from Athletic Director Mike Holder for the program.
Martin hopes to do what Holder has helped do for Cowboy football the same way for Cowgirl softball and he talks every day with Gajewski in how to expand the sport.
Since Gajewski arrived in 2015, Martin believes the two of them have built a program that people in the community connect with and has been a place for young players to come in and have a good career.
"If you look at this program, it's not about me, it's not about coach Gajewski. It isn't about any one person. It is about the people within it," Martin said. "Not just the current student-athletes or former ones, it is about the people in this community who have made softball a part of their life. There is something that gravitates you to that and it is hard to put your thumb on, but I think it is the people. They work hard for this city and have that blue-collar work ethic and that is what you have down there from a lot of great people from top to bottom."
Although he is involved with mainly the business side of Cowgirl softball, Martin likes to ensure he has an idea of where the players are going after school. He has seen players such as Rylee Bayless come in with no grand academic schemes and turn themselves into honor students.
"That tells you that dreams can come true here. That can happen here," Martin said.
That is one of the happiest parts of his job, not just the success of the program, but also the individual accomplishments of players in the program, who show that no matter where you come from, you can come to OSU and turn out alright.
"We look at this place and think this is home," Martin said. "It is a great place to raise our family and that mentality that comes with the Cowgirl and Cowboy way. It is a good place to call home. We have been here 14 years and they are orange to the bone and I wouldn't have it any other way."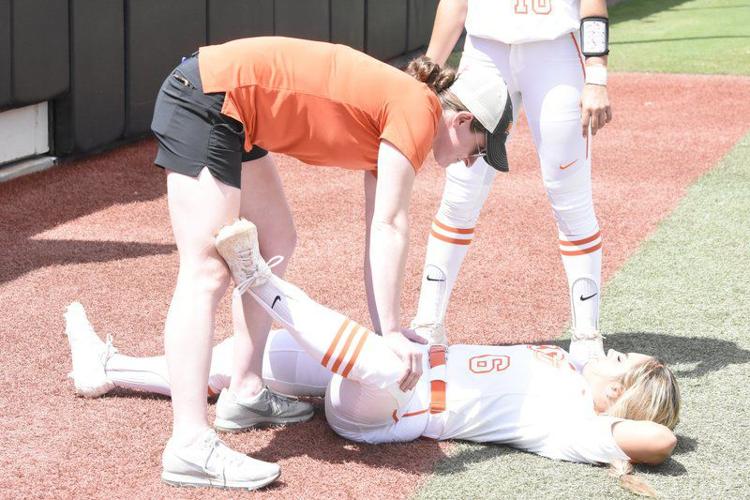 "It's Not Work"
By way of chance, Claire Williams' first interaction with her soon-to-be home was a natural disaster.
In 2013, Williams was at the WCWS with Arizona State as a trainer when an EF5 tornado tore through Moore. She was with the team when it headed to an emergency shelter.
"Who would want to live here?" Williams thought.
Only a year later, she actually would be living in the state, though as she took the softball trainer position at OSU.
While she wasn't used to the high winds, she was acquainted with extreme heat having grown up playing soccer for Highland High in the Phoenix suburb of Gilbert, Arizona.
"A lot of our days were spent in pools, but we ran around like normal. It wasn't until I hit my 20s that I realized it was unbearably hot," Williams said.
Williams stopped her athletic career after high school, focusing completely on wanting to be a trainer as she first headed to Northern Arizona to begin her academic studies, where she earned her Bachelor's degree in 2011.
Her next step was going to graduate school in Tempe at Arizona State, where she got her first taste of training as a student intern with the Sun Devil football team. It was at ASU where she decided she would get her Masters in education, just to give herself options.
She ended up actually going on one of those different options for a year away from school as she managed a company named Bounce U that made inflatables for parties. After that foray and learning a bit about herself, she went back to school and got her own sport, taking over the training for the softball team.
After earning her degree and looking for her next job, Williams couldn't believe she stuck with OSU, considering she felt her interview went awfully, but she earned the job anyway.
"I loved the people and the town. It just felt right," Williams said.
Williams has become the right fit for the Cowgirl softball team as her even-keel demeanor is perfect for a sport where a myriad of injuries are common. Anything from knees to shoulders, ankles to wrists, she has helped get the players back on their feet.
"I don't get too high or too low because how I think how I react is how they will react," Williams said. "They need somebody calm in that situation. Through the years, there isn't a lot that surprises me anymore. Usually by the time I get somewhere I guess how it is going to be and mentally prepare."
Williams usually starts the day in the weight room with strength and conditioning coach Wes Ulm, making sure the players are ready for a rigorous day. Some of the toughest parts of her job are when players come back from serious injuries or fight through them like Taylor Lynch, who plays through a torn anterior cruciate ligament.
"Just from a mentality standpoint, I think when everybody first starts, there is that loss of identity and all of that," Williams said. "I think the ACL and not being able to walk and seeing your teammates do everything, you feel like you are behind. You end up with this limb that doesn't work and you freak out."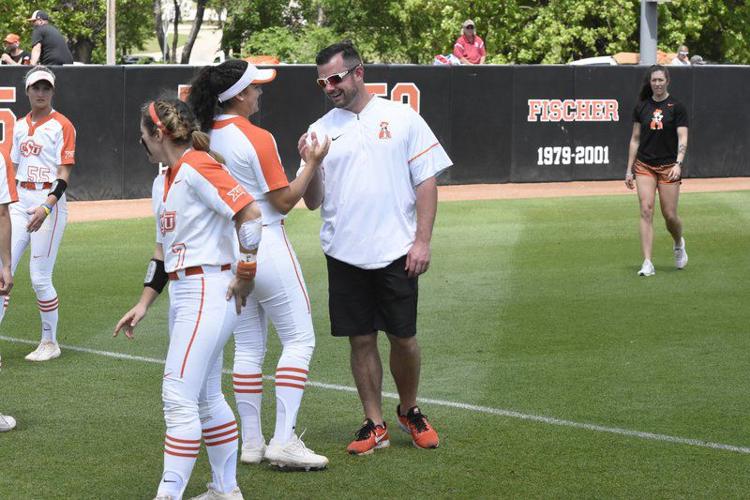 Her counterpart in Ulm also does a lot of building back up of the athlete, especially in their mentality.
"Strength and conditioning doesn't win games," Ulm said. "But you can lose games as a strength coach by not training right. You get to help set the environment and culture on how you do things. I am with those kids more than anybody. I am with them more than Coach G, more than their parents, more than their boyfriends so we develop really good trust with each other and work hard together."
Ulm grew up in Delphos, Ohio, as a football guy through and through. At the University of Cincinnati, he was working toward being a communications major before he took some time off for family circumstances. He came back with a new outlook on his career and realized he wanted to be in the strength and conditioning field.
His first job was an unpaid internship at St. Xavier High School in Cincinnati, after that he went to Mississippi State for a bit before landing at Florida. It was in Gainesville where he first found out college softball was a sport as he worked under Paul Chandler, the baseball and softball strength coach there.
Ulm met Gajewski and current OSU assistant Stacie Pestrak there, who were assistants under Tim Walton at the time. When Gajewski gave Ulm a call in 2018 to offer the role, he had to make one call first.
Having been at Florida for three years, Ulm had heard of the other Coach G, Rob Glass, the legendary OSU football strength and conditioning coach who had spent some of his career with the Gators.
"I have the utmost respect for (Glass) and how he handles his staff," Ulm said. "Him paired with Coach G were two people I was ready to join."
The one caveat to Ulm taking the position was he would have to also be the program's director of operations as the previous person in that role, Jeff Cottrill, had just became the Cowgirls' pitching coach.
It is something that he had to learn on the fly and he splits up the time as equally as he can.
"As long as you are organized and can solve problems, you will be fine," Ulm said. "It is just a big problem solving thing every day, You just put out fires and make sure things are running as smooth as you can for the coaching staff or team."
Ulm has the help of student manager Logan Holt on that side of things so he can invest some more into his passion project of strength and conditioning. He feels the culture he has built with the Cowgirls has contributed to their success.
"I let the girls be who they are. I let them dance during warm-ups and play music as loud as I can," Ulm said. "I hate quiet and hate when they aren't talking. … I think they have really embraced that culture and mentality that we can do it our way and we don't have to do it the same way as everybody else and we don't have to be that drill sergeant type."
Both Ulm and Williams don't know how long they will be in the field because it is a time-consuming job. What keeps them going is the daily improvement of the players and getting to see them embrace their full potential.
"It's not work," Ulm said. "I get to wear gym shorts and a T-shirt every day. When you start dreading waking up in the morning to go to work, then it is time to do something different. Every morning when I wake up, I look forward to seeing these 21 girls and getting after it."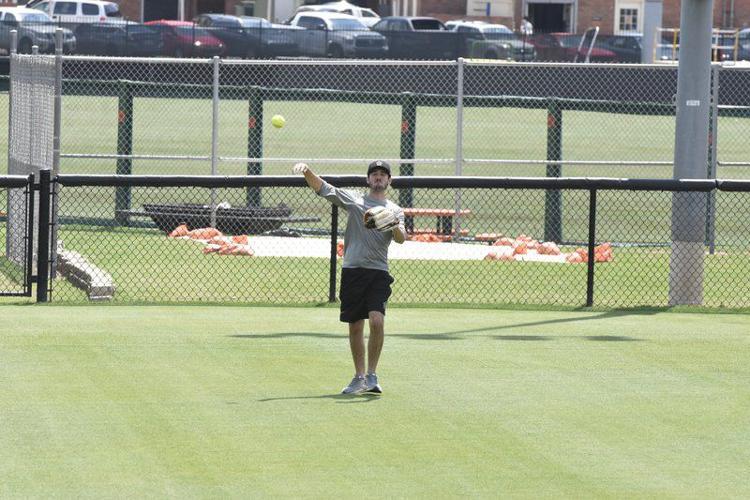 The get-it-done group
Jackson Lindsay was sitting in the lounge of University Commons watching the news of Hurricane Harvey as it passed through his hometown of League City, Texas.
While he was seeing what was happening with the town smack-dab in-between Houston and Galveston, Cooper Hamilton walked up and started chatting with him. The two OSU students quickly became friends and soon enough, Hamilton told Lindsay about a job opening on campus.
There technically is no posting for student manager anywhere on campus, it just comes about from word of mouth. Hamilton, a Calera native, had heard about it from a friend who was in contact with Pestrak, who is the managers' supervisor.
Growing up in the small town south of Durant, Hamilton prided himself on his catching ability and knew he could catch bullpens, as well as whatever else entailed.
Lindsay had never been much into baseball and softball, as he was more of a track athlete and a hunter, along with dabbling in competitive sailing since he was so close to the ocean.
Little did Lindsay know what Hamilton was getting him into, as Lindsay's first day with the program, he had a bullpen session with pitcher Whitney Whitehorn, who threw the hardest on the team.
"I didn't even know where pitches were going, I was just trying to keep that big, yellow ball off of me," Lindsay said.
The duo, along with Holt, are an experienced group who have been with the Cowgirls for multiple seasons. There is something new every day for them, whether it is doing laundry, painting the ball returns, double-lane hitting, retrieving team meals. Nothing is off the list.
"We have never been to complain, we have always been more of a get-it-done group," Lindsay said.
Whereas Lindsay and Hamilton are in their second year with OSU, Holt has been here the longest as she also heard about the job in an unconventional way.
A native of Shattuck, Holt played a little softball and had been a manager for the high school team there, but mostly she was big into agriculture. Her family has a business in it – Holt Livestock – with Berkshires, Chesters and other pigs as well as cattle.
Gajewski's son, Preston, was looking to show pigs during Holt's freshman year and Gajewski was told to contact one of Holt's friends of the family. Holt's dad heard about it and since she was wanting to do something along the lines of what she did in high school, he was able to get her a meeting with Gajewski.
Holt, a junior, hopes to be an Ag teacher someday in a rural area like where she grew up. She helps Ulm mostly with his director of ops role and has learned more on how to multitask, which she thinks will transfer to her future career.
"I figured it out as I go. That is what I love about my job. It is always something new and exciting," Holt said. "… Definitely being an organized person helps me and makes me learn how in an organization there is always somebody depending on somebody."
As for Lindsay's aspirations, he hopes to someday go back to the family business. A marketing sophomore, Lindsay wants to expand his father's oil and gas business when he gets out of school.
With the student manager job, he has learned how to work under high stress with a large amount of people and still keeping on top of it all.
"If you told me my senior year that I would be working as a softball manager, I would laugh," Lindsay said. "I didn't have a baseball background and didn't see myself going into sports, but it was one of those opportunities where I thought, 'Might as well.' It turned into where now I hope I can do it all four years. I wouldn't change anything about it."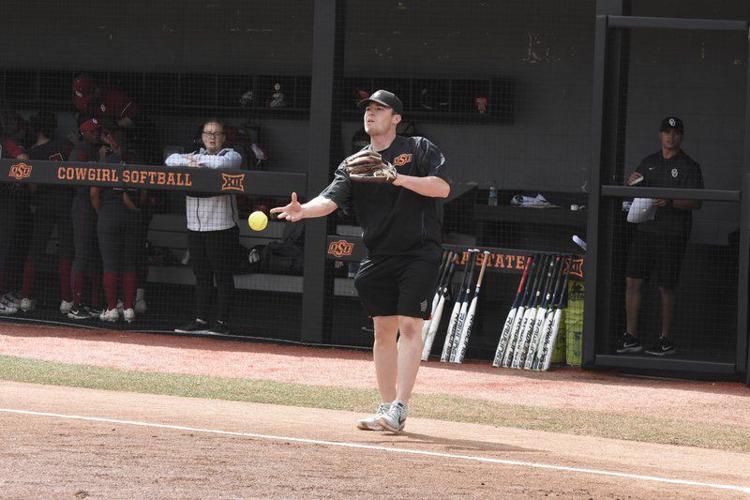 Hamilton is working toward being a doctor as most of his family has been in the medical field. Unlike Lindsay, whose whole family bleeds OSU orange, Hamilton was actually thinking of heading to Oklahoma for college.
Growing up in the shadow of the Choctaw Casino, Hamilton didn't know much about OSU's medical school. After a trip to Norman and the sprawling campus of OU, he felt much more comfortable with the homey feel of Stillwater.
"I came here and everything was right here and I can see from one side to the other," Hamilton said.
Hamilton is happy he was able to convince Lindsay to come aboard as it was a tough transition going from just playing basketball and baseball in high school, only seeing a couple of softball games, to being around it every day.
"You can't be prepared for everything you learn, you see or you travel," Hamilton said. "My first day, I was a nervous wreck around these Division 1 softball players who are all super athletes and I'm just me."
Lindsay and Hamilton have come a long way from that initial first encounter in the commons to now they just have an imaginary checklist when they set up the field each day. It is a job that is tough to stay on top of, especially with a pre-med major like Hamilton being on the road a lot while keeping up with the rigors of biochemistry, but they wouldn't have it any other way.
"That is what is cool about this job is you get real world experiences. It is the business of winning," Hamilton said.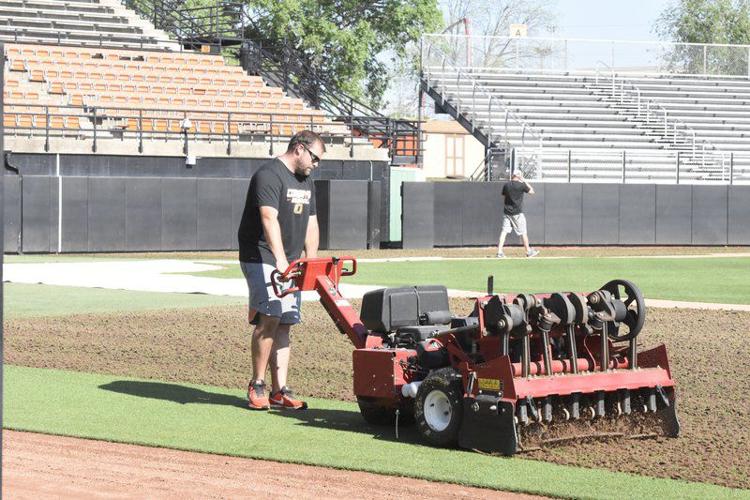 Year-round job
Whereas the student managers set up practices every day for the Cowgirls, the ground beneath their feet has been prepped for hours already.
In a job where the work is hard and the thank yous are few and far between, the OSU grounds crew works year-round on the campus.
Not only are they responsible for Cowgirl Stadium, but also Allie P. Reynolds Stadium, Neal Patterson Stadium, the natural field at the Sherman E. Smith Center and even the artificial turf at Boone Pickens Stadium.
That amount of work requires a dedicated crew and Athletic Field Superintendent Todd Tribble has an A-Team assembled.
"We have guys who are doing every major on campus that you can imagine," Tribble said. "The turf program doesn't give us as many workers as people think, I have one right now. We have guys like management majors, engineers, landscape architects, a guy who use to work for the Rangers. We aren't picky for our student workers, we just need bodies."
Tribble, a Clemson graduate, has been in Stillwater for more than a decade and he knows everything about what it takes to keep the athletic fields in good shape.
Initially growing up in Greenville, South Carolina, before he moved to Savannah, Georgia, Clemson was the only school he applied to. Turf management was the only trade he was interested in.
"My first job in high school was lawn care," Tribble said. "It didn't start out as a love for grass, it was a love for outside. Then I was a high school golfer and played golf all throughout high school. I had some internships in pro ball when I was in school and recognized that being a turf manager was what I wanted to do."
With baseball and softball most historically tied to the art of turf science, the grounds crew takes pride in its work. While most think of the grass being a big part of it, the crew actually spends the shortest amount of time on it.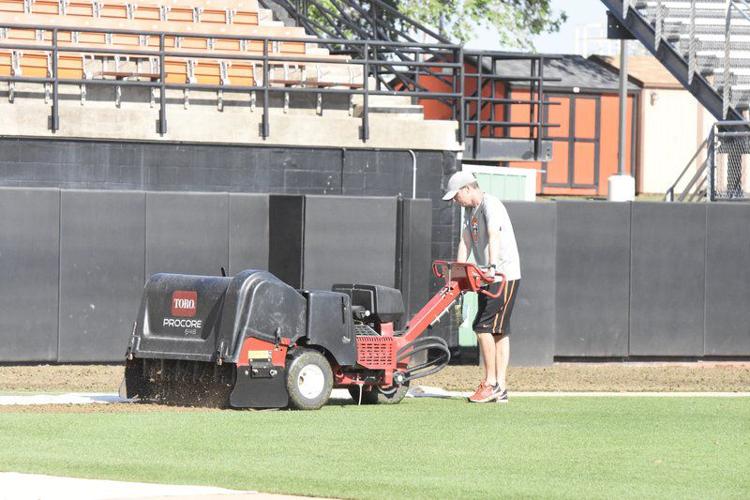 "We are 100 percent perennial rye grass with Bermuda grass base," Tribble said. "That isn't what is giving us the green color, that is the perennial rye grass that is planted in October. We baby it and baby it and baby it and now we see the fruits of all that work from six months ago."
The crew spends about 45 minutes on the grass before getting into the real slog of the day – the clay. Specially shipped on a railcar from Pennsylvania, the clay work is the biggest thing Tribble asks of potential workers and student assistants.
"It isn't just dirt, it is a very specific engineered soil that is specifically used for baseball and softball that allows us to play through wet weather and holds together a lot better," Tribble said.
One of his former student workers who understands the art of the field work and now has a full-time position is Adam Pope, the assistant athletic field superintendent.
With the turf world being so small, Pope had done some work with the AAA team in Oklahoma City when he was told that there might be a job available for him in school at OSU. He was one of the first students Tribble hired.
Pope enjoys his work, especially knowing that baseball coach Josh Holliday and Gajewski have an appreciation for what they do. Gajewski was an award-winning turf director himself for 10 years at OU.
"It is great and helpful. It is great having somebody to go into his office and figure out the practice plan and coordinate with him. They know what is going on," Pope said.
One of the biggest moments for the ground crew recently was the announcement that O'Brate Stadium would have a natural surface with most importantly, better drainage: a problem at the current facilities.
"This field is like your backyard. There is nothing special at Allie P. or Cowgirl Stadium to help us play through rain. This new field is sand based and once it gets through there, there will be four-inch drainpipes," Tribble said.
Pope said it meant a lot to the crew when Holder made the announcement.
"We took that to heart. I think there is nothing better than coming to work and taking care of a field. We love coming here and it is a pride thing and makes us feel good," Pope said.
It is a fulfilling job, but a demanding one. Without it, there wouldn't be a game as it is the most crucial position for Cowgirl softball to operate.
"You are a farmer. You think Easter weekend mattered to me, it didn't. July the 4th won't matter, Labor Day won't matter," Tribble said. "I think people think we are here on a gameday and water and chalk and that was the day. But you are worried every single day that something is going to die. You are at the mercy of so many things. What we do is not something you can say you will get to on Monday. If you forget something over the weekend, it's dead."
Being on the other side
A few people who definitely understand the work of the grounds crew are those who have played on it.
OSU has a few former players on staff in the role of graduate assistants such as Jessi Haffner, Maddi Holcomb and Emmie Robertson.
Only a year removed from their Cowgirl careers, it is strange for the trio to be a part of the coaching staff, but they appreciate getting to stay around the program while working in grad school.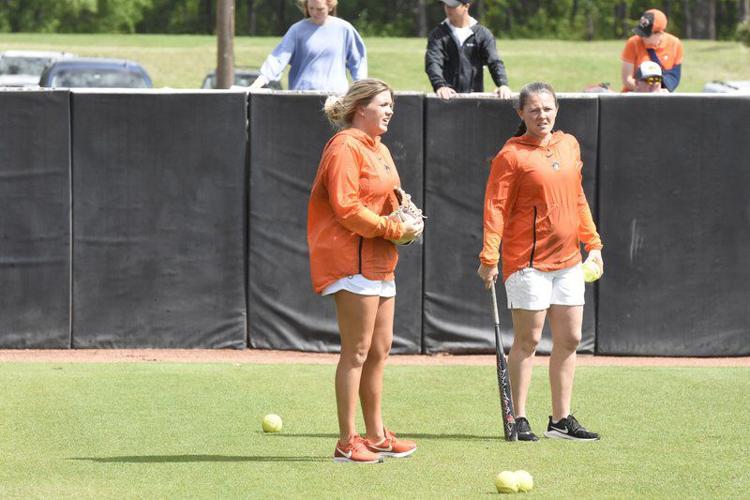 For Holcomb, a former center fielder from North Richland Hills, Texas, she didn't even know she could be a GA. After her career ended last summer, she was contemplating coming back for a Masters degree in recreation management. Gajewski called her one day with the offer.
"I didn't imagine myself being in a position I am now, but when I got put in that opportunity, there was no hesitation to it," Holcomb said. "I was all in and wanted to stay around as long as I could."
Holcomb, who came to OSU initially planning to be a history major so she could teach and coach, changed her major to be more coaching-heavy early on.
After an internship with Ulm, she knew she wanted to someday be on a Division I coaching staff, so being a GA has worked wonders for her.
Holcomb has returned to her roots and helps Pestrak with the outfield and also works in the dugout on gamedays.
"It was really weird at first," Holcomb said. "I remember thinking that because they would not see me as someone they can come to because they had just played with me. The first few weeks, the more and more we got into it, I was surprised how much people would seek me out for help. … It is definitely weird being on the other side of things, but you see a lot more."
Joining Holcomb in the dugout for most days is former first baseman Haffner, who is only working one year as a GA as she already has a job lined up after the season.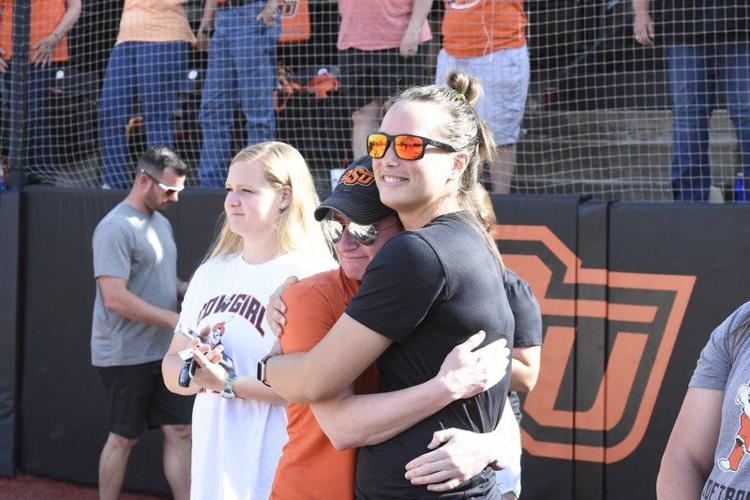 An accounting graduate, Haffner will be working at Ernst and Young as a tax accountant in Kansas City, Missouri, where she will start in July.
A Wichita, Kansas, native, Haffner initially came to OSU because it wasn't Kansas or Kansas State. Later on, she found out the school had a good accounting program and since her mom, Lisa, is an accountant for Hawker Beechcraft, Haffner figured she wanted to be in the field as well.
"They told me I had to pick a major," Haffner said. "I started with the A's and accounting was the first one. Little did I know that I would completely buy into it. Obviously it is not a glamorous job, but it opens so many doors. I know tons of people who don't even do accounting, but they have accounting degrees. It is nice to know where the money is coming from."
Haffner hopes to someday be a CFO of a major league baseball team. To do that, though, first she has to work on passing her CPA exam, which consists of four parts – Auditing and Attestation, Business Environment and Concepts, Financial Accounting and Reporting and Regulation.
Each section is four hours long and all four must be passed within 18 months or else they will have to be retaken, no matter if one has been passed. There is less than a 50 percent pass rate so when Haffner isn't helping the Cowgirls, she is studying.
As someone who helps with the infield and also throw in batting practice, Haffner likes the break from the books every once in a while.
"It is an absolute dream," Haffner said. "You are in softball, but you don't feel the same amount of pressure as you are when you are playing. It is my little break and really nice to be around softball. That has been really nice to have that camaraderie."
Rounding out the defensive positions is Robertson, who scouts opposing pitchers in the week and monitors the zone from up in the pressbox during games.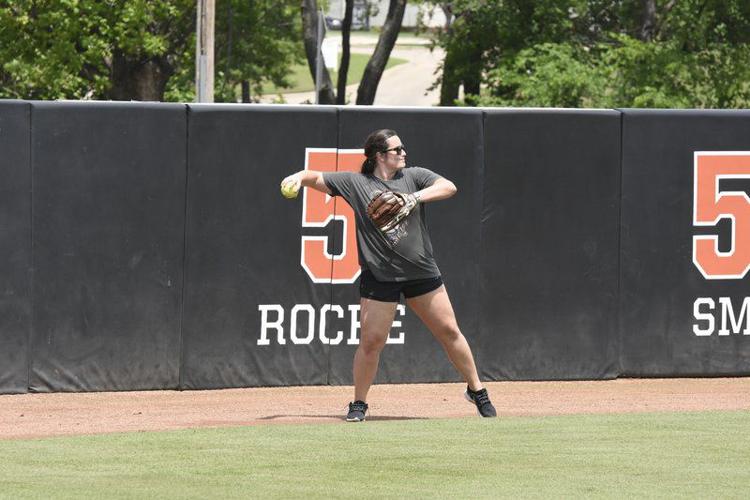 A transfer ahead of the 2018 season, Robertson came from Pittsburg State in Kansas and immediately fell in love with OSU. A native of Lamar, Missouri, Robertson hopes to get into coaching someday, like Holcomb.
She also enjoys the academic side of being a teacher/coach, though as she earned her degree in elementary education last year. Robertson got to spend a semester in the field for a first grade class at Sangre Ridge in Stillwater.
"By the end of the semester, I was teaching the class myself," Robertson said. "I had a good mentor teacher and she allowed me to take the reigns. I love first graders and I didn't realize I loved them that much, it was great."
Robertson said it is still strange to see some of her former students around town and have them calling her Ms. Robertson, since she is only 23. She said it was even stranger holding parent-teacher conferences.
"You are thinking, 'These people are several years older than me and trusted me with their kids and I'm not even out of college yet,'" Robertson said. "It was a really good experience and it teaches you what people look for and how you are supposed to guide their kids to learn."
Robertson has always wanted to be a teacher and hopes to someday be a principal. She enjoys getting to be more organized as she and volunteer assistant Cody Barham scour the internet for tape on pitchers to help prepare the OSU batters.
"It's nice. I love still being around the girls and I love being with Jessi and Maddi so being with all the girls and coaches reemphasizes the fact why I came here last year," Robertson said.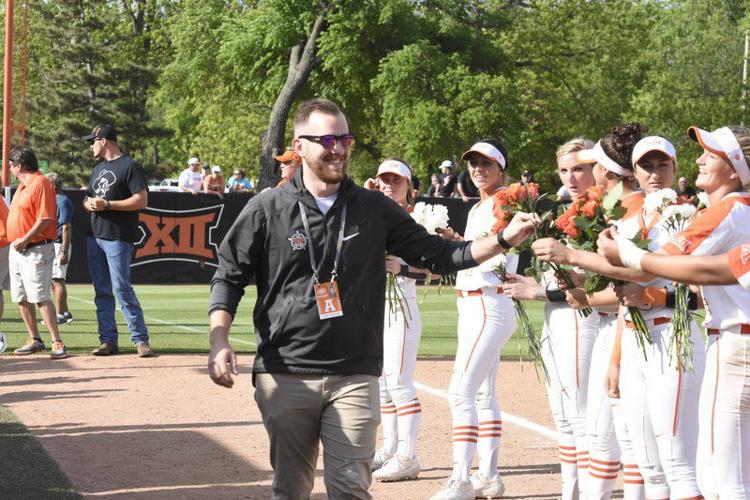 Telling the story
Sitting next to Robertson in the press box in home games and traveling with the team on every trip is the most invisible member of the support staff with the loudest voice.
John Langham, the program's sports information director, insists he is just the guy who tweets, but his responsibilities include much more than that as he videos, preps game notes, writes recaps and is the official scorer for home contests.
Langham didn't watch much softball growing up in Lee's Summit, Missouri. A soccer player, he preferred watching Manchester United and SportingKC, but after nearly two years in the program, almost all he watches sports-wise is college softball.
Despite not being at most practices or meetings, Martin insists Langham has one of the most important jobs, referring to him as the brand manager and the team's official messenger.
"This program has really turned it around in four years since coach Gajewski has got here," Langham said. "… The big thing for me is to make sure our audience knows that they need to be here and follow along. This is a group work watching and something that OSU fans should be supporting across the country."
Langham loved all types of sports coming into college and was huge into statistics, which is why he veered into the SID side of things. He started his career with the Stillwater High football team before getting a position in the OSU athletic communications department at first as an intern before becoming a contact for the men's tennis team.
He took over the SID duties for softball before the 2018 season. Gajewski made Langham feel at home from day one, and soon Langham felt he was becoming a part of the team.
Langham, who said he works 100 miles an hour – crashes for a day – before getting back up to 100, believes Gajewski truly helped him open up as a person.
"I cannot give enough praise to Kenny Gajewski, this coaching staff and this team for including a random, nerdy dude who tweets too much about Batman, pro wrestling and Game of Thrones because I walk in that locker room and nobody is wondering why John is there or think that it's weird that I am filming practice," Langham said. "Coach has never restricted me. It is a credit to him and the way that he has been open with including everybody, fans, alums and making sure this entire community, let alone the guy who goes on the road with them to tweet, is a part of this team. I have felt that and it's something I am truly grateful for."
Softball was a big step up for Langham as he had to start dealing with more media coverage, especially from national TV crews as the Cowgirls started becoming a household name again.
Langham embraces the challenge of pumping out more content and gaining more follower on Facebook, Twitter and Instagram, as he has exponentially helped the Instagram brand grow in the last year.
In the little amount of downtime he gets, Langham keeps up with pop culture to help him in his tweets and enjoys watching pro wrestling, with his favorite being Kenny Omega.
Langham enjoys getting to tell the story of the team, from Samantha Show's bat flips and Vanessa Shippy's incredible senior season to what he thinks are the beginning to great careers from sophomore in Sydney Pennington and Michaela Richbourg.
Since the softball position is a graduate assistant spot and Langham is graduating, he doesn't know what is his next step. He hopes somehow, someway he can stay with the Cowgirl softball program that has made him a superfan and become his life for the past two years.
"There is something special about this group. … If those girls can continue to get better and put in the hard work, this community will buy in and fall in love with them," Langham said. "This has been the best two years ever to get a chance to be a part of it and tell that story."
This article can be found in the Summer Style issue, which can be bought at the News Press office.