On the night when Oklahoma State's football program celebrated Barry Sanders with a nine-foot-tall bronze statue and induction into the Ring of Honor, the Cowboys also paid homage to him on the field.
OSU demolished TCU 63-16 on Saturday night in Boone Pickens Stadium in vintage Sanders style, relying on a frenzy of touchdown rushes to control the game from start to finish.
While legendary running back Sanders watched the game from a suite marked with a "G.O.A.T." plaque outside the door, multiple Cowboys had moments to dazzle the crowd with their skills.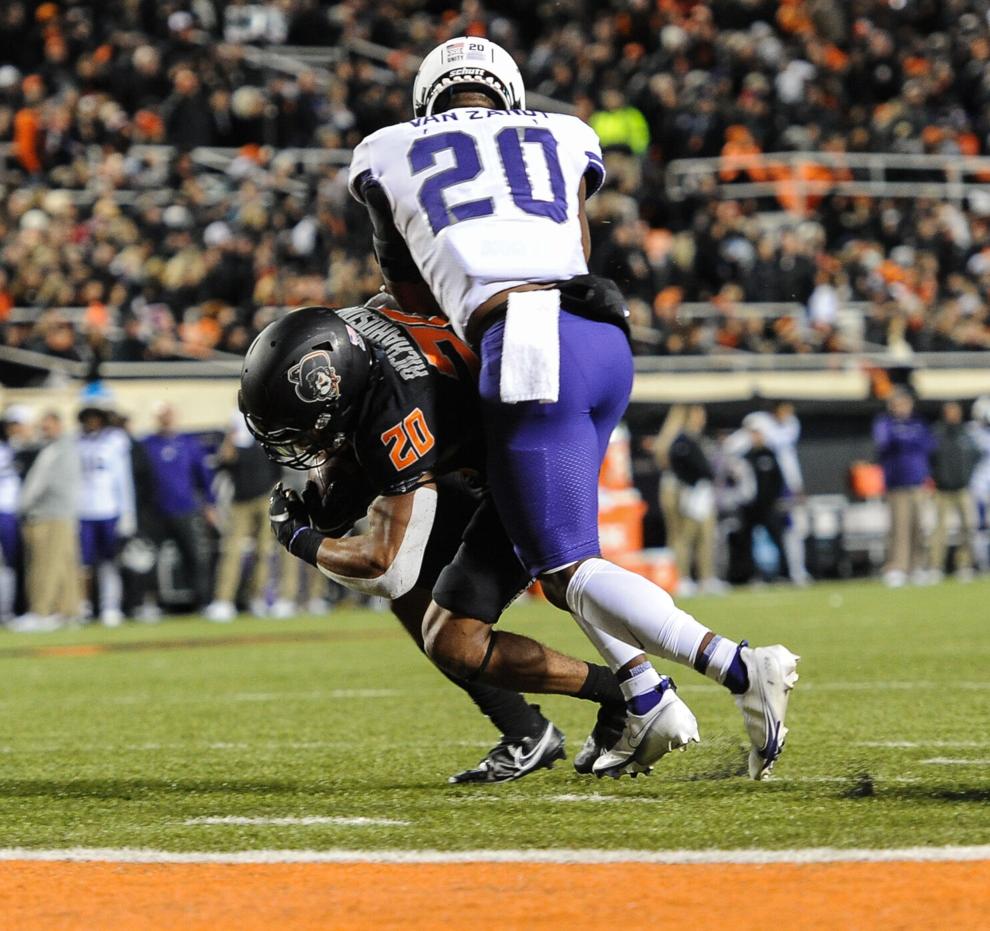 Starting rusher Jaylen Warren bounced around and found creases for three touchdowns. Backups Dominic Richardson and Dezmon Jackson each scored twice. In the fourth quarter, freshman Jaden Nixon had his turn, shaking off tackles and making a shifty 360-degree turn on his way into the end zone.
"I don't know what the key was, other than our guys were fired up and excited to play in front of Barry today," offensive coordinator Kasey Dunn said. "We talked about that. ...We just didn't want to disappoint, and our guys played really, really hard and ran hard, and you can see that."
With collective effort, the Cowboys' number of rushing yards mushroomed to 447, their best performance of the season. No. 10 OSU ran for eight touchdowns and averaged a whopping 7.1 yards per carry.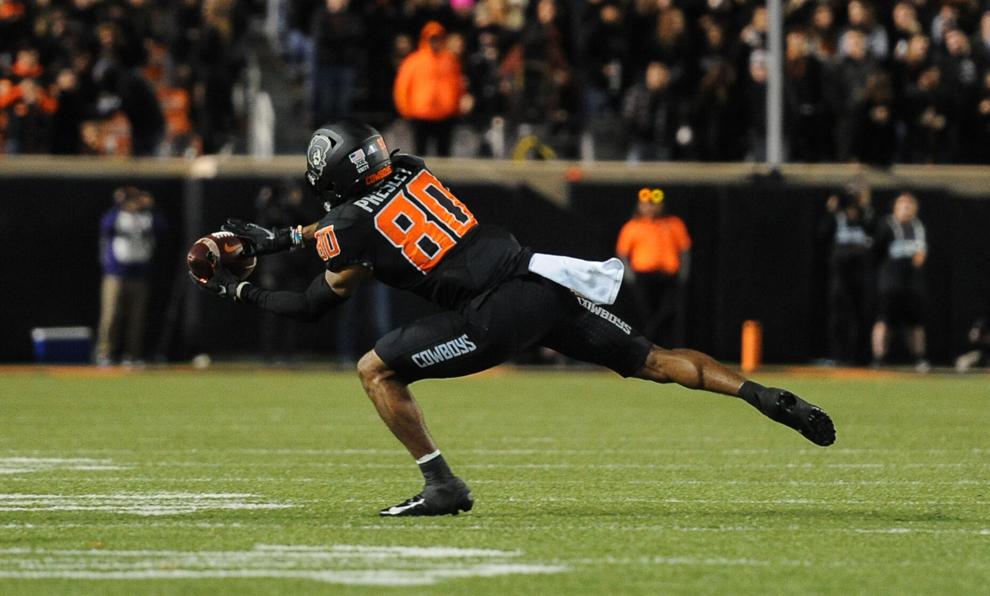 This was the same team that managed only 1.9 yards per rush in its season opener.
The Cowboys have made major progress, dominating the Horned Frogs (4-6, 2-5) early with their electric game on the ground. The offensive line dealt with injuries – Tyrese Williams had to step in for left guard Josh Sills, and center Danny Godlevske was shaken up partway through the game, bringing Joe Michalski into the lineup. Despite the changes, the Cowboys held strong in the trenches, shoving defenders out of the way as if they were emulating Sanders' War Pigs.
At the start of the fourth quarter, OSU led 42-3, comfortable enough to bring in third-string quarterback Ethan Bullock. Coach Mike Gundy said the Cowboys skipped second-string signal-caller Shane Illingworth because he still has an opportunity to redshirt.
Aside from a Bullock fumble returned for a touchdown by TCU, OSU's offense kept rolling, and by the end of the game, freshman walk-on Gunnar Gundy – the coach's son – was making his debut. It didn't take long for the Cowboys to score again as they fed their offense through Nixon.
Dunn proudly observed from the coaches' box while Nixon secured the handoff from Gundy, flew past midfield and eluded several defenders for a 63-yard touchdown, the longest and last of the game.
"It was a beautiful run," Dunn said.
Nixon provided the grand finale, and redshirt senior Warren had built the Cowboys' foundation, starting with his 1-yard punch into the end zone to give OSU a 7-0 lead. The Horned Frogs (4-6, 2-5) made their mark on the scoreboard when Griffin Kell nailed a 44-yard field goal in the first quarter, but it didn't take long for the Cowboys to extend their advantage to 14-3 with Warren's 6-yard touchdown rush.
After pumping energy into the offense, Warren exited the game because he "got his breath knocked out of him a little bit," coach Gundy said. The Cowboys continued to efficiently move the football as sophomore rusher Richardson, a former TCU signee, led OSU with 134 yards.
"I think that we can go downhill and run the football whenever we want to, essentially, and be able to rotate guys through being fresh," Dunn said. "Obviously, Jaylen's a great running back, and he's our guy, but if he has to come out for a series or two or a play or whatever, we stick the next guy in, and it's the next man up."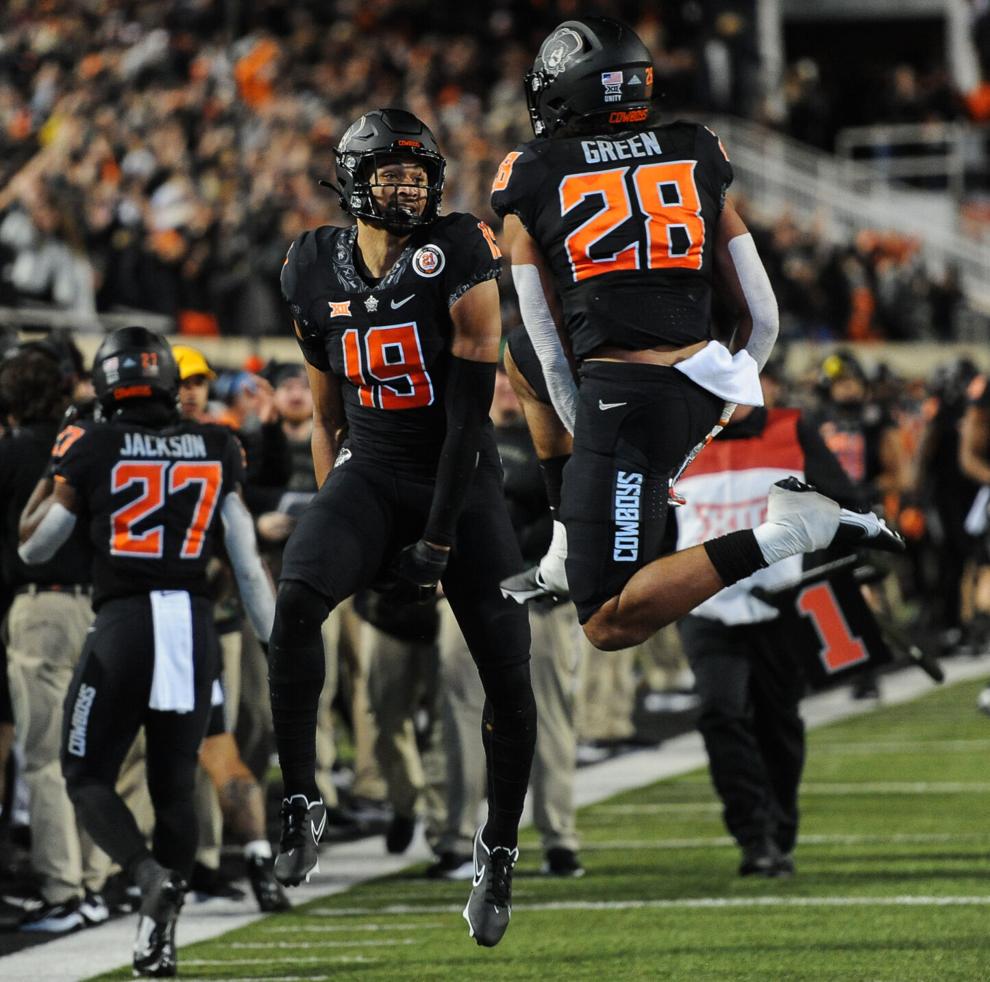 The Cowboys received additional support from their passing game. Starting quarterback Spencer Sanders completed 17 of 25 attempts for 235 yards, including one touchdown. In the second quarter, Sanders threw a deep pass to freshman Blaine Green, who strode into the end zone on the 46-yard play.
"Offensively, tonight, is what we looked like a whole bunch of (past) years because of big plays," Gundy said.
OSU's defense gave up no touchdowns until Emari Demercado scored on a 13-yard rush with 12:27 left in the fourth quarter. The Cowboys held the Horned Frogs to 273 yards and allowed them to convert on only two of 13 third downs. Super senior linebacker Devin Harper had a team-high seven tackles, and Malcolm Rodriguez moved into fifth place on OSU's all-time list, adding six to reach 371 as a career total.
The Cowboys have two regular-season games left. And their chances of ending up in the Big 12 Championship game have improved week by week, but they aren't taking any opponent for granted. Next, they face Texas Tech, the team that upset Iowa State on Saturday.
"It's not just us," Gundy said. "You look around the country, and just about every league, pretty much everybody could beat everybody. ...It's not much fun for the coaches because we don't get any off weeks. There's just no guaranteed wins, but it's awesome for the fans and it's awesome for everybody else because people watch, and that's what drives this market."