Oklahoma State University unveiled an esports arena Tuesday in the basement of the Student Union, as the university is working to become the fifth college in the state with a varsity esports program.
The new space in the Union dedicated to gaming has been years in the making, with a committee trekking across the country to identify the benefits of esports – organized competitive playing of video games – on college campuses.
Spurring that process, which was first led by former Student Union Director Mitch Kilcrease, was the realization that Oklahoma State University's largest student group was in fact gamers – the Gamers of OSU.
The creation of the esports arena gave that group of gamers, who were constantly having to relocate their personal computers to hold LAN competitions, a central location to compete, while also providing a space for any PC gamers within the OSU student body.
"That was one of our biggest drawbacks," said Sam Williams, the club president for Gamers of OSU. "… I think the arena will bring even more people to our events, and then people walking by may see it and that'll draw even more to our club, as well."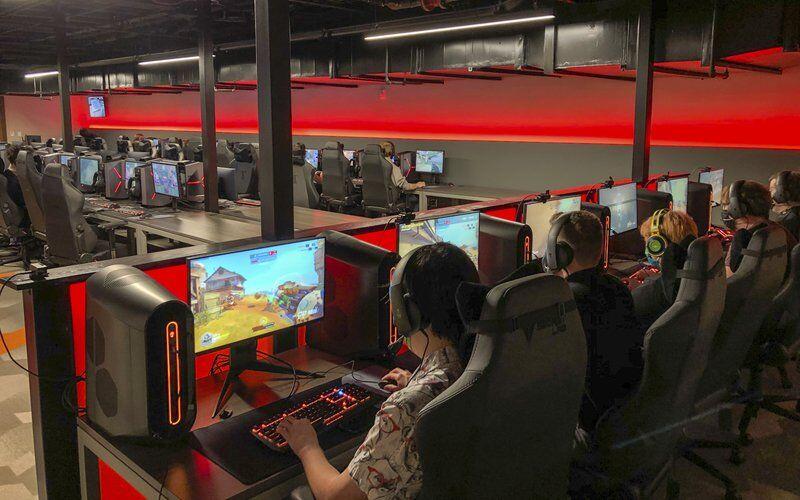 The most popular esports game globally is League of Legends, a multiplayer online battle arena game that had 44 million viewers for the 2019 League of Legends World Championship with a minimum prize pool of $2.5 million.
There has also been a constant increase of new esports leagues centered around first-person shooters.
According to Williams, most of their high-level esports teams partake in those FPS games. But they also have large interest in the League of Legends scene.
"We have one of the best-ranked Rainbow Six Siege teams in the nation, and we also placed 26th for our Overwatch team," Williams said. "… It just really depends on the student interests, though, and its really suprising how these games fluctuate.
"Last year, our League of Legends team has six different teams – we had a varsity, junior varsity and then ABCD. It just kind of depends on what the interest is every year."
It only seems like a natural progression toward esports and streaming for Oklahoma State considering some of its alumnus have pivotal positions within the video gaming world.
Bill Young, who attended OSU from 1988-94, has been the Head of Games at Twitch since January 2020, according to his LinkedIn. He has been in the gaming industry for decades, including a stop with Electronic Arts – one of the longtime leaders in sports video games, as well as countless other video game genres.
Other alumni in the field, according to a story written by Oklahoma State University, include Envy Games President Geoff Moore, NCSOFT Vice President Kendall Boyd, Special Reserve Games CEO and product designer Jeff Smith and Intel Gaming Global Account Manager Brian Bruning.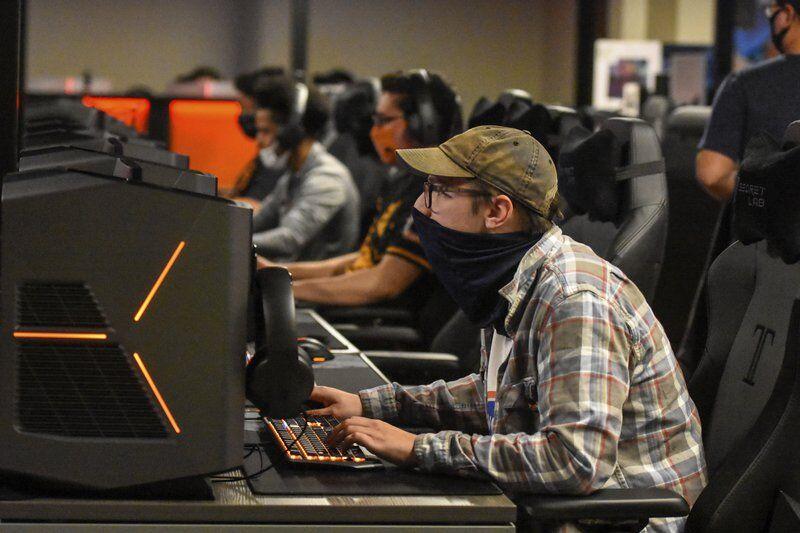 Colleges connecting with video gaming has been growing across the country.
According to the Next College Student Athlete website, there are 151 members schools with varsity esports programs.
Colleges in Oklahoma with varsity esports programs include Carl Albert State College, Oklahoma City University, Rogers State and the University of Oklahoma.
The hope is with the creation of the arena that the club at Oklahoma State can morph into a varsity program, as well.
"It's really the first step toward a larger esports program," Williams said. "This kind of helped kickstart things. … We just hope to get more school recognition, become on the same level as our sports teams here, so that we can offer scholarships to players and get official coaches, things like that."
The arena is currently free for Oklahoma State students to utilize, but according to Tracie Brown, senior director of Student Union Operations, that likely will change.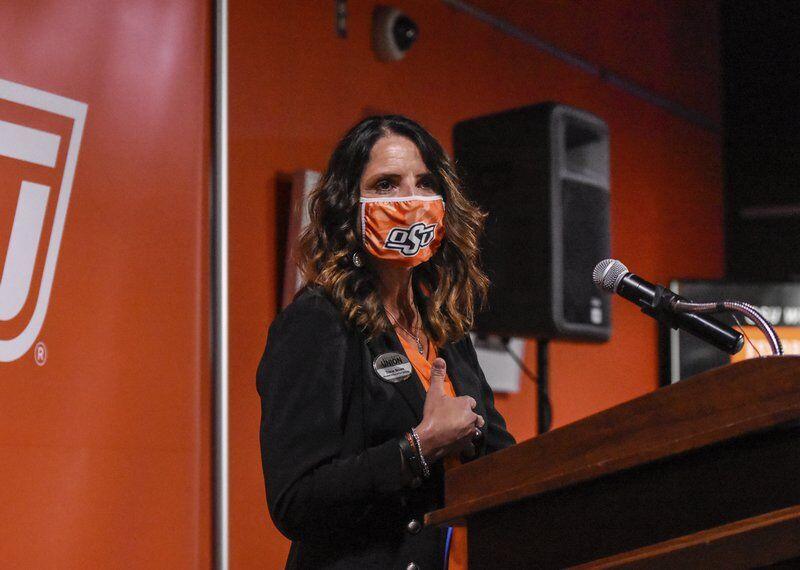 It's possible students could eventually be charged a fee, with the intention of that money going back into the arena – such as updating the PC stations every few years to keep up with the constant evolution of hardware and graphics cards.
"It's free right now, but we don't know at what point we'll put in a fee structure, but there will be a free structure put in because of capacities and things like that," said Brown, who took over the mantel of creating the esports arena after the departure of Kilcrease. "We don't have that model up yet, but at some point we will."
Along with the general use of the computers potentially costing students to play, Brown said there may be an eventual charge for those who look to utilize the Twitch station for streaming.
The station includes a 4k camera for those looking to take advantage of the space for gaming on popular streaming sites. Brown did not believe that their model for effectively renting out the streaming station would take any type of percentage made by any user who is able to monetize their streaming.
Brown wasn't sure what the total dollar figure was in renovating the space and purchasing the equipment for the arena, but said they partnered with Dell in order to get a better price for the large amount of gaming computers purchased for the space.
She also said that the funding for the project came from the Student Union's auxiliary funds, and was not built using student fees.
But Oklahoma State isn't simply building a space for gamers to play – either competitively or to fill downtime between classes.
The university is also in the process of getting approval from state regents in regard to a certificate for a two-year esports academic program within the School of Media and Strategic Communications after the certificate program was approved by the OSU/A&M Board of Regents in March.
"There's not a whole lot of universities that have gone through the academic red tape to get a certificate or minor or major – a lot colleges will do something like put it into software engineering or something like that," said Shaun Noll, who is the Student Union meeting and conference services manager and expected to teach a beginner level course within the new program. "But there's not really a huge presence of degrees right now, and so the certificate, what that allows us to do is give the students something that's recognized by the university that gives them a leg up on the competition when they graduate. …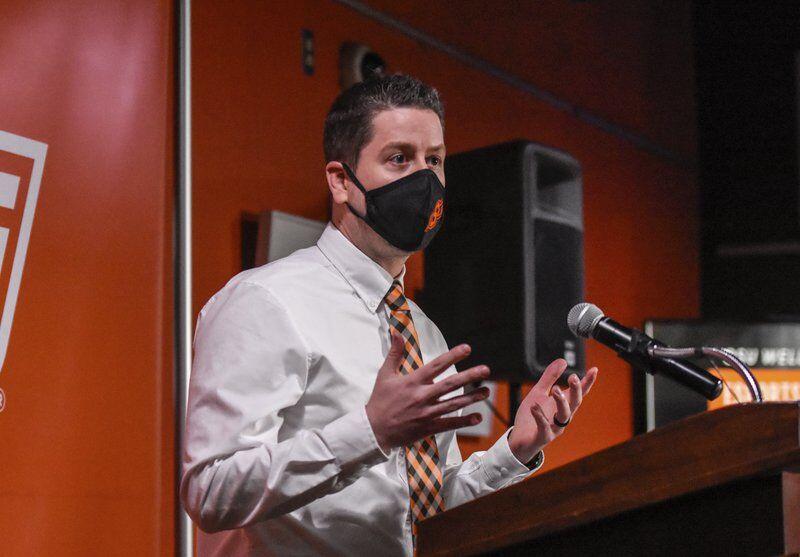 "They're going to be able to take what we believe to be right around two years to graduate with a certificate program that might already be involved in the field that they're going to school for."
The academic addition isn't a form of teaching students on how to game. It will be a way for them to learn possible job opportunities within the expansive esports realm.
There are countless job experiences within esports beyond the gaming itself. There are elaborate productions behind many of the most popular esports competitions – with a need for video production and shoutcasting (the term used in the industry for a commentator). The curriculum will include aspects of marketing and production within esports from a business and event-planning perspective.
And Noll sees the arena and academic program as recruiting tools for the university for bringing in students who have interest in the esports world that currently has limited spread across the major colleges across the country.
Noll also envisions the arena being a space that can be rented out for events.
"Just important is the community aspect, allowing these students to come out to hold birthday parties in a place that doesn't exist in Stillwater that I'm aware of," Noll said. "So to be able to offer that, there's just so much opportunity that we can bring these kids on campus."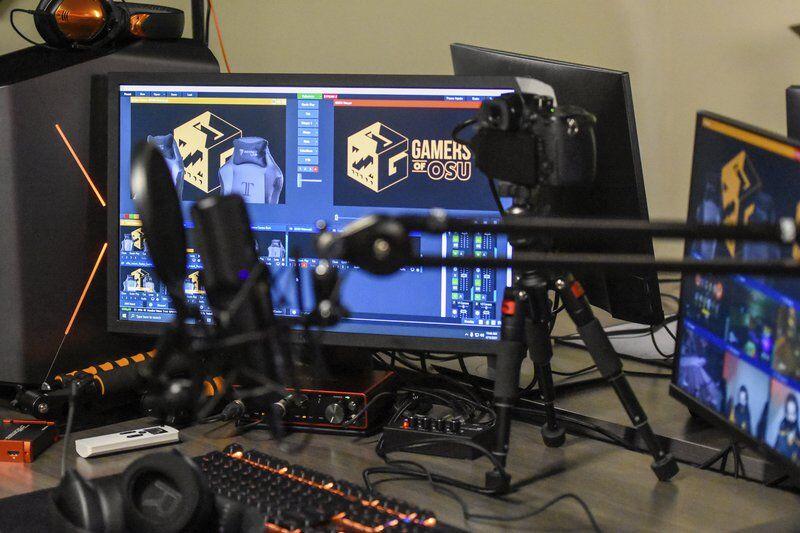 While the currently updated space focuses on PC gaming, a separate section of the Student Union basement adjacent to the arena is expected to be renovated eventually to allow for console gaming.
The space currently has a handful of Switch consoles set up, with the students playing Super Smash Bros. Ultimate – a popular fighting franchise that has been a part of the esports scene for nearly 20 years – on Tuesday.
As for the competitive aspect of the arena, it will host an annual Bedlam event this year between the Gamers of OSU and the OU gaming crew. And Williams said they will also be hosting a tournament against a gaming group from the University of Tulsa.
According to Brown, the unveiling of the space this week was to allow students an opportunity to explore and utilize the space before the end of the semester, with the hope of having a more elaborate event to open the arena to the masses during Welcome Week for the Fall 2021 semester.