Chris Young has been so concerned about his players and their safety since their season ended, he hasn't had much time to think about how special May could have been for his program.
March 13 was doomsday for winter and spring sports across the country as the NCAA canceled championships for both seasons. The news was felt all over the nation – and even the world, especially in a sport like tennis.
"It kind of went from zero to 60 in literally a matter of minutes," said Young, the Oklahoma State women's tennis coach. "That was the hard part, because we were trying to process everything that was happening so fast."
It was nearly two weeks ago Young and his team learned of their season's fate as they awaited a weekend trip to play Kansas and Kansas State. The Cowgirls were aiming to improve upon their 2-0 Big 12 Conference record after home wins over Texas Tech and TCU.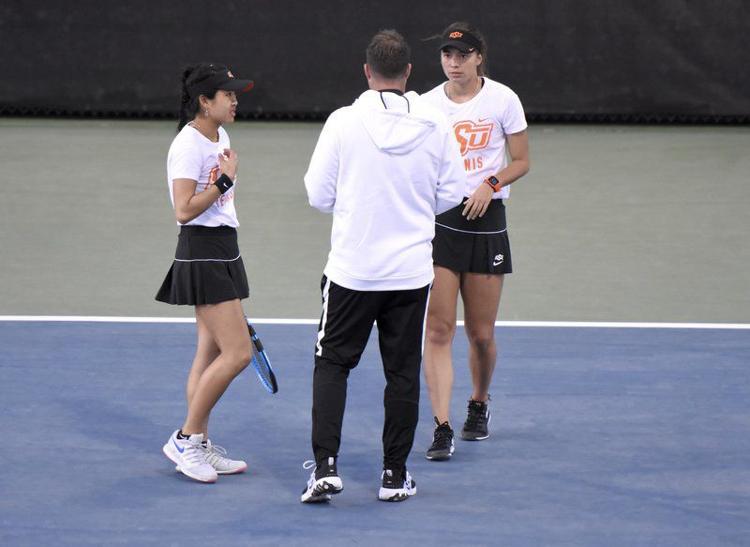 The Cowgirls were ranked No. 10 for the second-straight week and boasted an 11-1 record. Their lone loss was a 4-3 defeat to Ohio State, but they had won six matches in a row following the home loss.
"I thought we really had a good season," Young said. "Ohio State was anywhere from No. 2 to 5 in the last few rankings, and that was our only loss and it was 4-3. That was a match we should have won. We had plenty of opportunities to win, at least. I thought we learned from that match and we played a lot better. That win over Pepperdine was a good win. The win at South Carolina was a good win.
"I think we were really starting to come on and we got off to a good start by winning two Big 12 matches pretty easily at home, and then we were set to go on the road. As a young team, we were really starting to grow and gel. You want more time with them to keep that moving forward. I think they were only continuing to get better. I was excited to see where things went."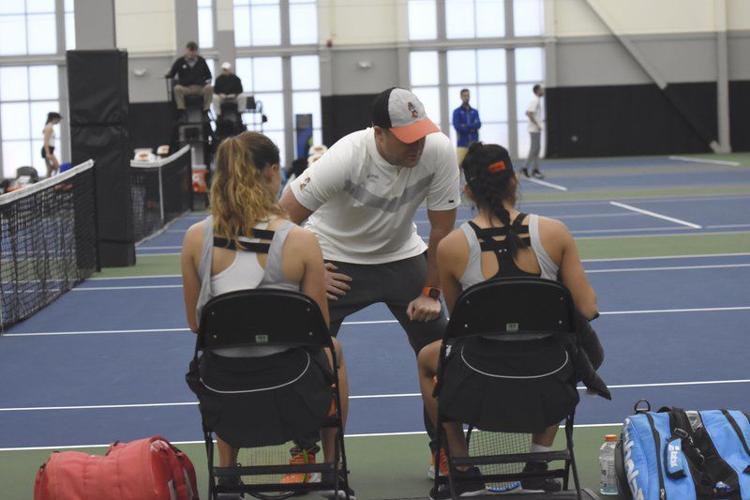 Then came the news last week that Oklahoma State was shutting down its campus for a couple weeks after spring break. That turned into all online classes for the rest of the semester.
For Young, his immediate concern turned to his OSU women's tennis team, which has five international players representing four countries. Two came to Stillwater from Japan, while the other three came from Slovakia, Thailand and Kazakhstan.
"I think the biggest thing for me was just making sure the players were taken care of," Young said during a phone interview last week. "I wanted to make sure that their health was the most important thing, and also make sure they had a place to be and were provided for. It took a few days to think about the fact that the season was going to be over and think about the national championships being gone. I think it took several days to really get to that point, because there was so much to process, as far as the immediacy of the season being over.
"It all happened so fast. I've had to make sure I was taking care of the players, and we have so many international kids that I've had to make sure that they're where they need to be, that they feel safe and communicating with their parents. There's a lot of things to do that I really haven't had time to sit back and think about it too much. I think I'll get to that point, but right now there are more questions than there are answers. I'm just trying to figure out how do we deal with everything, because no one is sure what everything means."
On Tuesday, Young said two of his international players are staying in Stillwater instead of returning home because of travel restrictions of their home country. They are staying in their dorm while taking online classes.
Once the travel arrangements, or lack of, for two of his players were worked through, Young took time to reflect on the season and the cancellation of the NCAA Championships that were to be held in Stillwater in less than two months.
It was to be the first time the men's and women's championships would be held in Oklahoma since Tulsa hosted in 2016. The Cowgirls made an improbable run to the national runner-up that season.
They later earned the right to host the 2020 championships at one of the country's nicest college facilities – the Michael and Anne Greenwood Tennis Center.
In a flash, that was gone. The NCAA news was heartbreaking for Young and those surrounding the program.
"It's something we've worked four years for," Young said. "We had a lot of plans. We were going to do a lot of things, not just for the tennis, but for the community. I think the event itself was going to be pretty special, so we're hoping it's something we can agree to just move the championship calendar back a year and we can host it next year. There's so much that will go into that decision that we don't know yet."
Could OSU host next year? Would the NCAA push championship locations back one year on its schedule?
"I think they're going to be consistent with all of the championships, as far as not just tennis but other championships that rotate," Young said. "I think they'll be consistent with whatever decision they make."
Regardless of what happens, Young is still disappointed he can't host the championships this spring. He helped oversee new lights installed inside the GTC, resurfacing of the courts and the construction of two visitor locker rooms on the east side of the facility.
Additionally, Young was planning a fan festival to be held just outside the facility. It was going to include an evening concert and food trucks.
"The investment of resources and then the people – the supporters who have given the money for resources and those investments to take place," Young said. "That's what I feel terrible about, because people gave with the intention that this money was going to go toward a championship this season. Whether it's people that gave to revamp our facilities or just to be a sponsor of the championship, it's definitely a difficult moment."
One positive for Young is he should return the Cowgirls who were playing for him next year. Of the seven rotating players, there was one junior, two sophomores and four freshmen.
Whether the NCAA Championships are in Stillwater next year or not, the Cowgirls will likely be competing for a national title in 2021.
"I expect all of the girls to come back," Young said. "I would be shocked if we had any changes. We have one recruit coming in, so we have to work through that. It should be a very similar roster next year."