John Smith passed another former Oklahoma State wrestler on the all-time list of coaching legends on Sunday.
With the two victories by his Cowboys against University of Tennessee-Chattanooga and Oregon State, Smith slid past J Paul Robinson, who won 440 duals while coaching Minnesota and is a former Oklahoma State wrestler, for fourth all-time in career wins at the Division I level.
"It takes a lot of good athletes to be able to do something like that," Smith said. "So I credit my past athletes. … It's a great honor, and I'm glad I'm gonna get to share it with this team."
Smith reached the new milestone with a different lineup than he expected to start the season – or will be heading into the postseason.
Oklahoma State had three ranked wrestlers who didn't even wrestle in the opening duals – Daton Fix is serving a USADA suspension, and Wyatt Sheets and Anthony Montalvo are sidelined with injuries.
But the one constant among the lineup, as has been throughout the years with Oklahoma State wrestling, was that four Oklahoma natives took part in the two duals Sunday.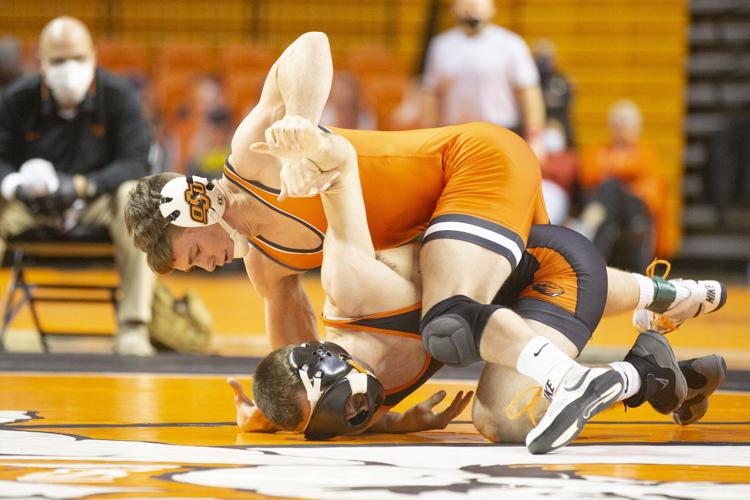 "That's awesome. To be a part of anything that Coach Smith is achieving is something," said senior Boo Lewallan, who is a Yukon native who grew up idolizing Smith. "… He's an incredible coach. He was an incredible athlete, and to have my name a part of that, it's pretty special."
It likely won't take him long to pass the next coach in front of him.
Smith is just one win behind third, which is held by former Rider coach Gary Taylor with 442 wins. 
"I don't know what to think about third or fourth place," Smith said. "That's wonderful. That's credit to a lot of good teams, and a lot of good efforts from a lot of individuals. Dual meet wins to me is the greatest thing in college wrestling, because it is the way we can generate new fans and bring new people into the sport – having dual meets has always done that."
Achieving the top spot on that list may be a little more difficult, however.
The overall record is held by former Oregon State coach Dale Thomas with 616 dual wins.
"Yeah, I'm not going to reach that," Smith said with a laugh. "You gotta be kidding me."
Smith tied Robinson early in the day with a 32-9 victory over Chattanooga.
The Cowboys collected four bonus-point victories in the opening dual – along with a forfeit at 141 pounds – with Lewallen getting the biggest of those with a 20-4 technical fall in the second period at 149 pounds. Also coming up with bonus points were true freshmen Dustin Plott – wrestling at 174 for an injury Anthony Montalvo – and AJ Ferrari – the top-ranked freshman in the recruiting class, taking over at 197 pounds for OSU – with each earning major decisions. Sandwiched between them was a major decision by No. 10-ranked Dakota Geer over No. 14-ranked Matthew Waddell of UTC.
The dual was capped with a couple of close contests, an 8-2 decision by true freshman Trevor Mastrogiovanni at 125, and a 9-6 decision by Austin Harris, who was coming back from an injury to start at heavyweight.
The dual win that moved Smith ahead of a former Cowboy wrestler came against one of Smith's former Cowboy wrestlers, Chris Pendleton – who is in his first year as the head coach at Oregon State. The Pokes won that contest 29-8.
There was one ranked wrestler for Oklahoma State who didn't get to compete in the Chattanooga match who has been waiting a long time to get back on the mat.
Stillwater native Kaid Brock, who was wrestling for the first time since March 2019, received a forfeit against UTC. He then squared off with No. 18-ranked Grant Willits in the battle of the OSU programs.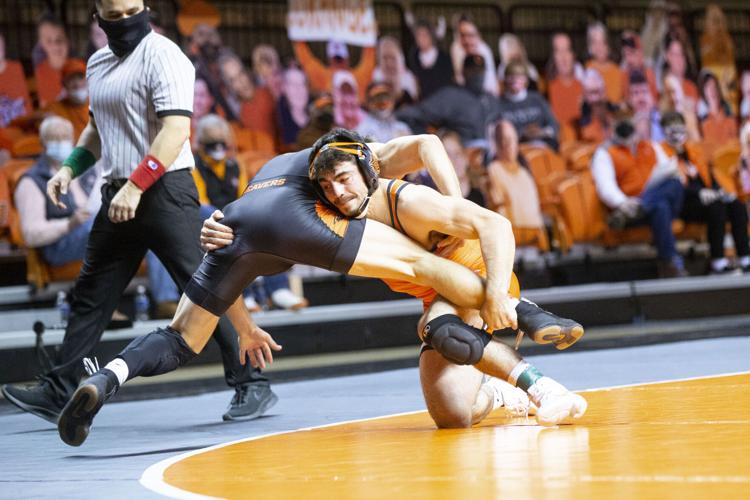 Brock, who is ranked No. 8 at 141 pounds despite being out last season after struggling to adjust to the weight in the 2018-19 season, picked up two takedowns in the first period to set himself up for an 8-4 decision.
"I think for Kaid, it's a good start," Smith said. "That match really kind of exposed some things that you want to continue to get better with. I thought the kid was pretty talented, I thought he was ready to go. …
"So it's a good start for Kaid to get that kind of test. Should give him an opportunity to really grow from as we go into the next weekend."
Lewallen followed with a quick 18-3 technical fall in the first period at 149 pounds, for his second technical fall of the day.
"I've got a big commitment to myself of making sure that I'm starting my matches the way that I know I want to start them, and not standing around with guys," Lewallen said. "This an opportunity for me to separate myself, and if I can separate myself, I need to do that."
Mastrogiovanni got another close-fought decision to open the dual, while fellow freshmen Plott and Ferrari came up with bonus points again. Plott earned a 19-4 technical fall, while Ferrari came up just short of matching Plott, ending with a 16-3 major decision.
"It was amazing," Plott, a Tuttle native, said of his experience wrestling for Oklahoma State. "Growing up, coming up to the duals, I've always dreamed of being there, being this situation I was in today. So very grateful to be part of this program and wrestle today."
Ranked wrestlers Travis Wittlake – No. 4 at 165 pounds and won by 7-3 decision in the opener – and Geer each nearly came up with major decisions against the Beavers. Wittlake, an Oregon native, won by 8-2 decision, while Geer saw a little more action with an 11-5 decision.
The Cowboys capped the dual in dramatic fashion from Harris, who scored a takedown with 15 seconds in the third period to force a sudden victory. In the first sudden victory, Harris turned a shot by Oregon State's Brian Barnes into a takedown of his own to win 7-5.
Oklahoma State will return to the mat next Sunday with a couple of road duals at upstart program Little Rock. The Cowboys will face Southern Illinois-Edwardsville, and the host Trojans – in their second year of competition – in Little Rock, Arkansas.