For the first time in a year, Oklahoma State football has a feel for what is going on.
After going the rigors of fall camp and shortened season amid a global pandemic, the Cowboys opened spring practice Sunday at the Sherman E. Smith Training Center with a lack of questions having to deal with COVID-19.
"It's been a long time since we had long practices like this," OSU offensive coordinator Kasey Dunn said. "Didn't have practices last spring, had modified practices over the summer this past year and then even during the season were a bit modified and tweaked. It was fun to get back at it today."
This time a year ago, the Cowboys had gone through three light spring practices – which was supposed to be Dunn's first opportunity to get a feel for the new role of offensive coordinator – before the sports world was shut down due COVID-19.
"We got three pajama practices in last year, so hopefully we can get past these next two for me," Dunn said.
There is some normalcy to getting back to spring practice – which started a few weeks later than normal. But it comes in not practicing.
As has been the case in previous spring practices, there will be several Oklahoma State players sidelined for the 15 practices.
Obviously, for somebody like Trace Ford, who suffered a knee injury late in the season, being held out was expected. But Cowboy coach Mike Gundy mentioned a few others that will not practice this spring.
"There'll be certain guys that won't be in spring, like Devin Harper, Trace Ford, Collin Clay – guys that we had to repair from the season," Gundy said. "They're doing really well, and we'll turn those guys loose in June – we don't want them to go through spring ball."
According to defensive coordinator Jim Knowles, defensive ends Brock Martin and Tyren Irby are also currently sidelined for the Cowboy defense.
With all three of the veteran Leo position players not in action, it frees up opportunities for the depth behind them to get some valuable experience.
One of those players specifically is Colin Oliver, the Edmond Santa Fe product who graduated early and was one of 15 early enrollees from the December signing class.
"He's a guy, you talk about incoming freshmen who should still be a senior in high school, he's going to get a chance to play this spring," Knowles said. "But you know what? It's the best situation because there's no pressure on him because Trace and Brock and all those guys are coming back. So he can just play this spring without any pressure, and see what he can do in terms of rushing the passer."
The start of spring practice Sunday also marked the inaugural practice for Stillwater High graduate Gunnar Gundy, the son of Mike Gundy.
Gunnar took off a year after graduating high school before starting the clock on his college eligibility, and Sunday was his first official practice with the program.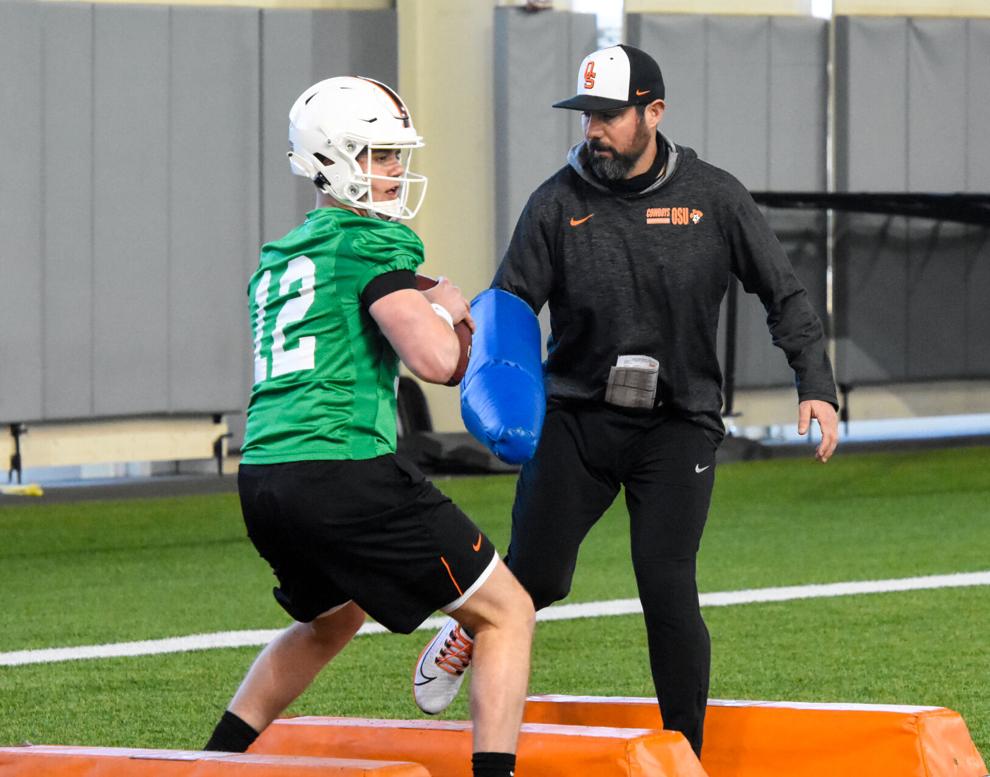 For the Cowboy coach, it's been unique having his son on the squad.
"I actually forget he's there because I have so many things going on in practice that I'm trying to watch," Gundy said. "Then when I scan to certain things, I'll see him. And when I talk to the team, which was also all through offseason, I look over there and see him and then I remember he's there. 
"So it's a little unusual, but I've kind of prepared myself for that. But the good thing is I have so many other things going that I get zeroed in on certain things."
Catching eye of his son, even from a distance, won't be too hard for Gundy.
The younger Gundy is wearing the same jersey number (12) as his father from his playing days at Oklahoma State.
"He's always had it, so it's pretty cool," the Cowboy coach said. "I wasn't sure what number he was gonna be in, honestly. But I guess it worked at for him that it worked out, so that's pretty cool."