Zac Robinson grew up wanting to be a college quarterback; for him, it was the pinnacle with the NFL just being a bonus.
Now, he says he doesn't know much about the college game anymore. One might think the times have changed, with Robinson's job at leading analytical site Pro Football Focus removing him from his glory days at Oklahoma State.
However, though the former star quarterback says in a phone interview he can't break down OSU's outlook this season, he then explains for three minutes every strength and weakness of the 2017 Cowboy squad.
"I guess I actually knew more than I let on," Robinson said laughing. "It's just the names on defense I didn't know."
During his time in Stillwater from 2005-09, Robinson was heralded for his ability to keep plays alive even after the outcome looked lost. In a way, he embodied the Cowboys in the first years of the Mike Gundy era.
Everybody would count them out, but they kept finding ways to win games, building up to the program that is now perennially looked at as a conference contender, with the Cowboys being looked at as a dark horse in the national picture this season.
It wasn't always like that, Robinson remembers. With his full-time job being to analyze pro football, something he got plenty of experience at in college and NFL quarterback meetings, Robinson recalls what it took to get OSU to this level.
The turning point
While Robinson was in high school in Littleton, Colorado, he knew from watching the Cowboys that they had something special. With Les Miles awakening a program that had been asleep for a decade, he had put OSU back on the map with playmakers like Josh Fields, the Woods brothers and Tatum Bell.
However, after Robinson committed s a three-star prospect, Miles left the Cowboys for Louisiana State following a loss to Ohio State in the Alamo Bowl. Luckily for Robinson, the Cowboys' new coach in Gundy had been his main recruiter.
Robinson knew while Oklahoma State had undergone a small revival, it would take some time to bring the Cowboys back to being good consistently.
"We went 4-7 my first year, and we just slowly got more recruits and everything just got a little bit better," Robinson said. "We always had a great coaching staff there, and everybody who has coordinated on offense or defense has ended up getting a head coaching job somewhere. It's just the quality of coaches has gotten better every year."
The coaching staff under Gundy, including offensive coordinator Larry Fedora, started to get better recruits that were able to make the program become more competitive.
Meanwhile, though Robinson said he was sixth string when he came to OSU, his hard work and tenacity eventually brought him to the forefront of an offense that starred Adarius Bowman, Brandon Pettigrew and Dantrell Savage.
Robinson said while it is hard to pinpoint the moment to where OSU became the program it is now, he believes it was right after the 2007 season with those guys and entering the 2008 year with the emergence of Dez Bryant and Kendall Hunter.
"We were playing pretty competitively that 2007 season and we went 7-6 so it didn't look that great win-loss wise," Robinson said. "I think we kind of built some momentum, though and then we get into 2008 and I think we knew had a pretty good team, I just don't think we knew how good because we hadn't been in those situations where we could prove to ourselves that we could win those games. I think the biggest one was the Missouri game on the road."
Robinson said that with the road win at nighttime in Faurot Field against the second-ranked Tigers proved to not only the Big 12 but to he and his teammates that they could win those games. No longer would they have to be consigned to being predicted to lose those games.
Although Miles had won some big games, notably against Oklahoma, the Missouri game and the nine-win Holiday Bowl season is when the Cowboys made a name for themselves under Gundy and have been trending ever upward since, Robinson said.
"We played a bunch of tough games that year against a loaded Big 12 South. That was the turning point was the end of '07 and the momentum that carried into '08. It really started with the Missouri win in '08."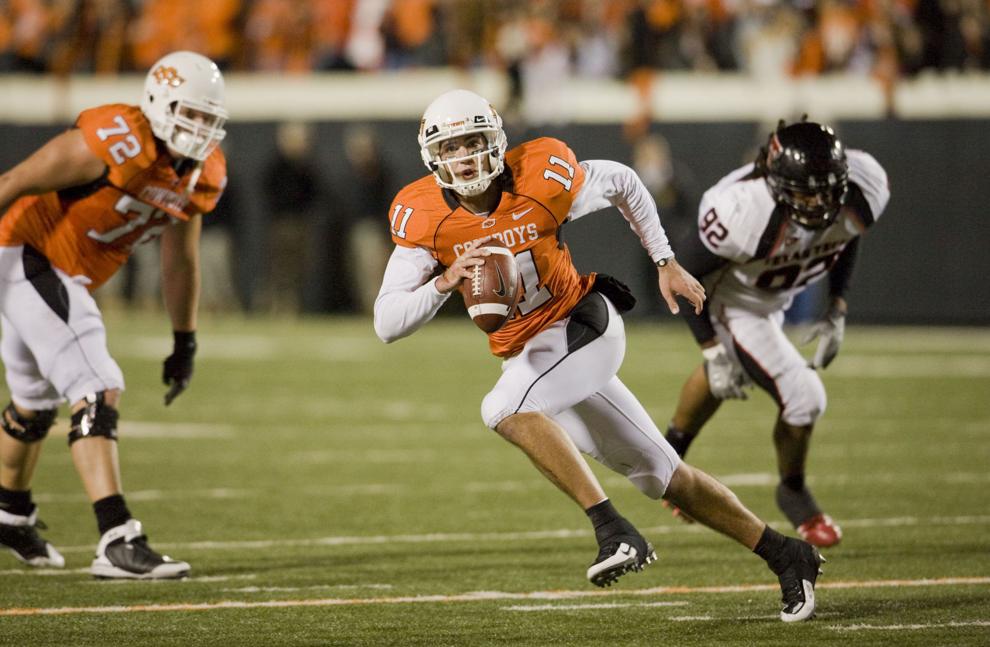 In hindsight, Robinson admits that while the OSU transformation was a long process under Gundy as they didn't change overnight like conference counterpart Baylor had done, Robinson and many felt 2009 could be a meteoric rise for them.
That 2009 season ultimately had almost as much hype as the upcoming 2017, season with the returning triplets and the opening of the completely renovated Boone Pickens Stadium. Robinson also appeared on the cover of Sports Illustrated in its college preview edition. The Cowboys opened that season with a win over Georgia in the stadium's debut, two years after OSU had been shellacked by the Bulldogs between the hedges in Athens, Georgia.
It felt as it the transformation was complete and OSU had pulled a Baylor or Oregon. It was not to be, though. The Cowboys were upset by Houston, followed by a controversial suspension of Bryant for lying about a meeting with Deion Sanders.
"Definitely it was one of the harder moments," Robinson said. "We had high expectations going into that season and then one thing after another, we ended up winning nine games and I didn't play that well personally. We had a bunch of different things going on. We weren't able to propel to like a 10 or 11 win season like I think we expected to going into the season."
Robinson was extremely hard on his personal play that season, which after having to sit out the Colorado game because of a concussion sustained in the previous game against Texas Tech, it was going to take him a while to be his old self again.
"I did not like not playing," Robinson said. "I didn't like not playing when I was the backup and it was hard to watch that one game that I was out and it definitely gives you some perspective on it so you can try to work a little bit harder so that doesn't happen again. Watching any game, whether you're in little league, high school, college. When you're not playing and you're not the guy, you always want to be out there and that was some eye-opening stuff to see it from a different perspective and try to get back out there."
Little did Robinson know that moments like the Colorado game (which gave way to the arrival of Brandon Weeden) were what would help him in his career after football.
After he got back to start his final two games, Robinson and the Cowboys would suffer another loss to OU in Norman followed by a Cotton Bowl loss to Mississippi.
"I definitely learned a lot about resiliency in that season because we pulled it together to win nine games and obviously it didn't end that well in the Cotton Bowl," Robinson said. "But it was a pretty great group of guys and I will always remember the good in the season, even though the end of the year wasn't so good. … A lot of tough times but still some good mixed in there."
Welcome to the NFL
After falling short of the program's first 10-win season in 20 years, Robinson had to forget all of his regrets and look toward a world he never knew he would be in.
"When I was growing up, I always liked college football, I loved it," Robinson said. "I watched College GameDay and I would wake up early every single Saturday to watch it. The NFL, it was on but I was never as into the NFL as I was in college. I think I always thought of the NFL as a bonus. I never really viewed the NFL as actually a option for me until junior, senior type year."
With the Cotton Bowl performance where he had thrown four interceptions, Robinson said he didn't know about his draft stock. As a 6-foot-3, 215 pound read-option quarterback, he didn't know if he had what the NFL wanted.
While he wasn't grilled and questioned as much as a first or second-round quarterback, Robinson had plenty of doubters.
"You try not to read stuff, but you end up seeing that stuff because you're young and you try to prove people wrong and whatnot," Robinson said. "You still have to prove that you're worthy of being an NFL quarterback and obviously your style of play, my style of play was a little bit different since I was running around doing zone-read and doing options so I was always trying to prove that I could be active enough from the pocket and show every single throw that I could make."
The New England Patriots ended up taking a flyer on Robinson in the seventh and final round with the 250th overall pick. He had made it to the NFL, but Robinson was about to learn that was easy compared to staying in there as a perennial third-string guy.
He went from being "The Guy" at OSU who helped start a revolution to being the guy who was given five reps a day in practice.
"They don't tell you how little it's going to be," Robinson said. "You usually get maybe five throws in practice so if you go 3 for 5 that day, you feel like you had a bad day and if you go 2 for 5, you feel awful. You definitely have to take advantage of all those little reps and you have to prove you're worthy of getting more reps. That's kind of what it's all about in the NFL. The starters taking pretty much all of them as the third-string guy, you're just itching for any chance."
Robinson never got that chance. While he bounced around until he had a chance to possibly be the second-string QB in Cincinnati, the opportunity to play on the field under the lights never came to fruition.
Just like when he was sidelined in college, Robinson looks back now at all those years being called upon in quarterback meetings to answer questions about plays and stay dialed in while sitting next to the likes of Tom Brady and Andy Dalton as learning opportunities for his job now.
"I was getting to view it more holistically and rather than just trying to be 'the guy' and the starter, you just kind of get to see a bigger picture of it," Robinson said. "Once I realized in the NFL the position I was in and I was trying to always elevate myself to be a backup, I kind of knew where I stood in terms of depth chart. I really tried to embrace my role and helping out the starter, seeing if they had any questions throughout the week. You kind of can be a sounding board for other guys."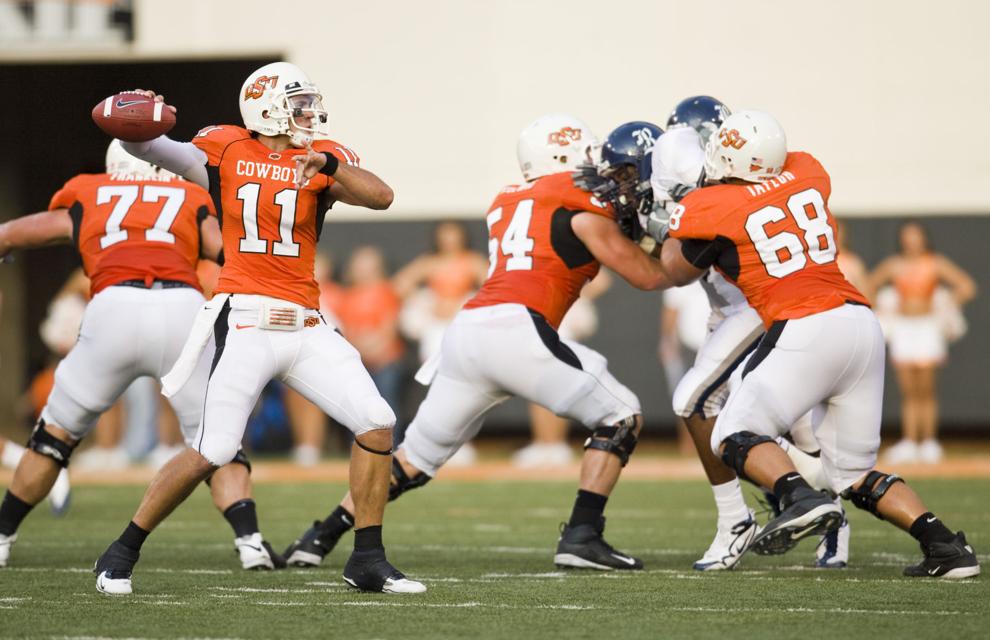 Hanging it up
While many would look back at a career where they didn't play in one game and regret it, Robinson loved his career when looking back on it.
When he suffered an elbow injury that required Tommy John surgery before the 2013 season, he knew that was probably it for his playing career, and he was fine with it.
For a three-star quarterback who had been sixth-string at one point in college, Robinson had lasted four years in the NFL. He got an invite to the veteran's combine after he was cleared to come back. He didn't receive a call, but he made peace with that fact.
"I was so honored to be able to play as long as I did in the NFL," Robinson said. "Obviously, I would love to go on the field and see what it looks like and playing with live bullets. Every backup quarterback wishes they could know what it feels like. That definitely would have been cool to do that but I could just never get to that level of being a true No. 2 guy."
Robinson made the transition to the business world pretty seamlessly after starting to work as an instructor at the Quarterback Ranch, which is based in Southlake, Texas. At the ranch, Robinson works with high school quarterbacks, college quarterbacks including Mason Rudolph and even guys like former teammate Andy Dalton.
It has become a fun gig that allows Robinson to keep playing somewhat, though it's in instructions, and that he still works at part-time.
Because he had always liked working with analytics, even in college, Robinson decided to reach out to PFF and see what they were all about.
"I always have liked Pro Football Focus and we made some stuff work and I definitely like working with them because they do some great work and you're always around the game and always into the game so I definitely love that part," Robinson said. "Once you're in playing, you don't get to see that much so I get to see more of the film kind of stuff and working with QBs on the side as well to get the football fix."
It's been almost a decade since Robinson found Damian Davis twice for touchdowns in the game that he says brought OSU into the spotlight that it is squarely in now. Quarterbacks may continue to come and go, but only once do you get a quarterback who helped make the program the way it is now.
Is Robinson up for ever returning to OSU as a coach or turning another program's fortunes around? He doesn't know.
"I definitely enjoy doing what I'm doing right now and can see this playing out for quite some time," Robinson said. "I will never close the door on getting into coaching or getting into a personnel type of deal. I think this job gives you a lot of avenues potentially so I enjoy doing what I'm doing right now and I think that can go on for a very long time."