Rachel Becker woke up Sunday morning longing for the type of opportunity that presented itself that afternoon.
Oklahoma State softball trailed Nebraska by a single run in the top of the seventh. The Cowgirls were down to their final two outs with the bases loaded, and Becker – their star second baseman playing in her first postseason after a storied four years at Purdue – had yet to record a hit through three prior trips to the dish.
Still, Kenny Gajewski's confidence hadn't wavered. And it wasn't going to change then.
"I just remember I walked over to one of our coaches, and I said, 'I don't think I could've drawn this thing up any better than this,'" Gajewski said. "I just kind of looked at (Becker), gave her a little encouragement, and she just looked like the Rachel that I always see every day.
"I was like, 'We're in good shape here.'"
Becker took the first pitch of the at-bat and rocketed it back up the middle, plating two as part of OSU's four-run seventh, a rally that propelled the Cowgirls to an eventual 5-2 win over the Huskers and into a fourth consecutive Super Regional.
"That's just something I feel like I've been waiting for my whole career," Becker said. "Stepping up to the plate, my heart was beating a little bit. I was feeling it, but I knew if I saw my pitch, I was gonna swing hard at it."
Once Cowgirls shortstop Kiley Naomi reeled in a shallow pop-up and fired to first for a game-ending double play, and following a celebration-filled flock in the middle of the diamond, Becker made her way over toward OSU's dugout and threw on a headset.
There, she talked with ESPN's broadcast crew about her and her teammates' late-game heroics. And it was there that Becker was engrained into the history of Cowgirl Stadium.
A pair of teammates ran over and hoisted her onto their shoulders and into the air. That's when the thousand-plus in attendance, on their feet from what had just occurred in the moments before then, started to chant her name over and over.
"It was awesome," Becker said. "Like, that was just insane."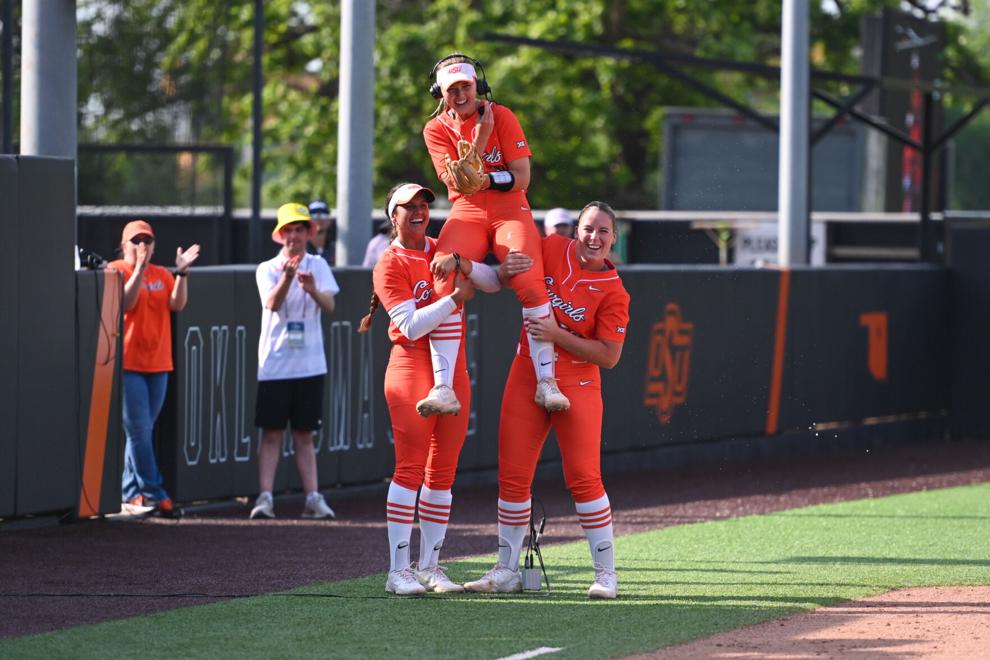 The Cowgirls (44-14) wouldn't have been sent home if Becker hadn't come through in the clutch. A Nebraska (36-22) win would've forced a second, winner-take-all game right after. But after ravaging through the first two days of the Stillwater Regional, it never seemed likely that OSU would be on the ropes.
Runs didn't come as easily as they did in a 9-0 win over UMBC on Friday and a 6-0 triumph against Wichita State on Saturday. The Cowgirls barreled a ton of pitches, getting ahold and sending them to the outfield.
But they all found the glove of one of Nebraska's outfielders, and OSU had only one run on three hits to show for the first six innings.
The same was true for the Huskers, whose only runs of the contest came in the bottom of the fifth inning via two wild pitches from Cowgirls senior Lexi Kilfoyl, who had entered in relief of ace Kelly Maxwell (4.1 IP, 2 ER, 7 H, 7 K on 74 pitches).
"I've never seen that in my time," Gajewski said. "So, that's a first – back-to-back – but it is what it is."
Then, with one out in the top of the seventh, OSU left fielder Tallen Edwards got the wheels turning on the rally that helped the Cowgirls reach the finish line.
Edwards was already responsible for the Pokes' only run up to that point with an RBI double in the fourth. This time was bigger, though. And she delivered, ripping a ground ball down the third-base line.
Catcher Taylor Tuck, a Stillwater native, was due up directly after. Instead, Gajewski turned to Katie Lott, another freshman who was set to pinch hit for her first postseason at-bat. She, similar to Edwards, pulled through with a single.
"This freshman class is fearless," Gajewski said. "It's really cool to see."
Edwards was never supposed to be in this position. She shouldn't have ever been at the plate to spark a game-winning rally for one of the top teams in the country.
Last summer, she had a choice to make.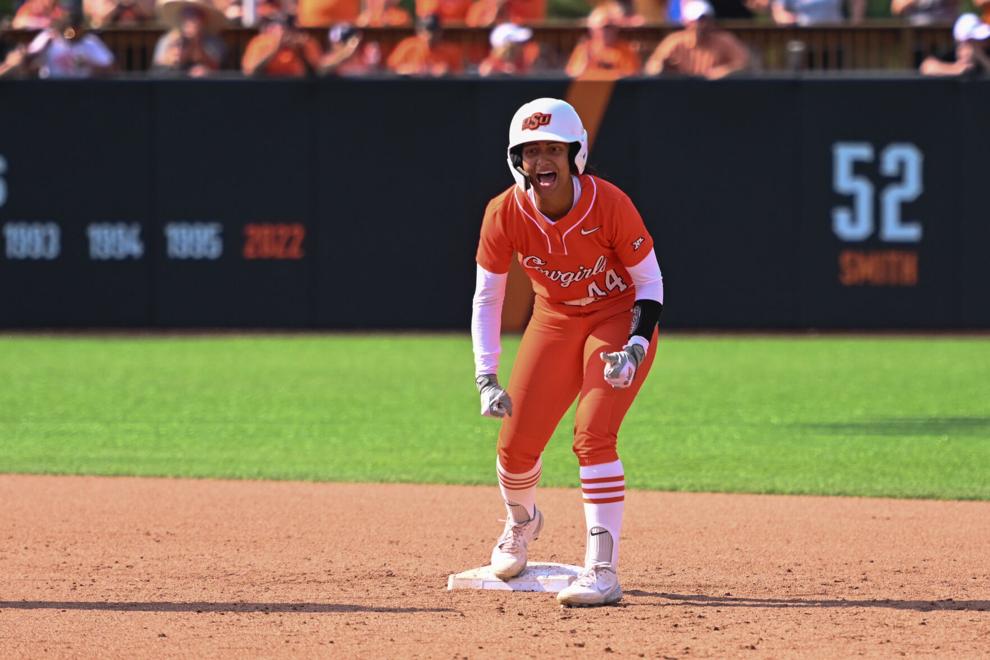 She wanted to finish her playing career at Southmoore High School this past fall. The plan, she thought, would be to join the Cowgirls during winter break and go from there. But that isn't the way it works, and Gajewski had to let her know that.
If she hadn't made her way to Stillwater, she'd be graduating from Southmoore on Monday evening.
"This is what I left high school for," Edwards said. "I knew what I was stepping into. That's the main reason I made this decision. I watched a lot of Oklahoma State's games last year, and being able to see the girls in those moments, I wanted to step in and be in those moments."
Becker, Edwards and OSU will host Oregon for a best-of-three Super Regional starting 8 p.m. Thursday in Stillwater. The Ducks run-ruled No. 11 Arkansas in the Fayetteville Regional to advance.
The Cowgirls making it out of this weekend would send them to the Women's College World Series for the fourth time in as many seasons. But for the time being, OSU will take being one of 16 teams still standing after winning a fourth-straight Regional.
"It's awesome. I mean, four in a row. It's pretty cool," Gajewski said. "When I took this job, I never thought, 'Well, OK, we're gonna go to four in a row.' I didn't think about any of that stuff."
And now?
"I have one of the best jobs in the country, hands down," he added. "I have a lot of friends who are jealous of this job."
Follow News Press sports reporter on Twitter @ByJonWalker for updates on Oklahoma State athletics and more.