Three months ago, Reece Witcraft wasn't supposed to be in Oklahoma State's starting lineup.
He wasn't supposed to be suited up for Sunday's home opener against No. 12-ranked Minnesota. He wasn't supposed to give a spark to a Cowboy lineup with half of its wrestlers making their debut at Gallagher-Iba Arena.
But he was, because of unforeseen circumstances three months ago – an Olympic redshirt used by Daton Fix and an leg injury to Kaid Brock.
And because he was on the mat, he got to live a moment many Oklahoma natives dream of – wrestling for Oklahoma State inside GIA, and better yet, getting a win.
But it wasn't just any win. The 133-pound wrestler, in his second dual of his career and his first inside the historic venue, he rallied from an early deficit to get a second-period pin as part of Oklahoma State's 21-12 dual victory.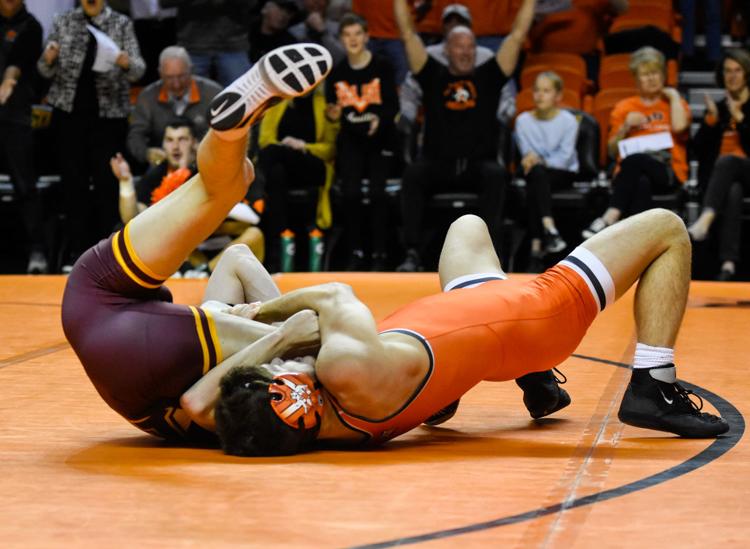 "I've been training my whole life for this," Witcraft said. "I was ready for it. It was a dream come true. I've never felt so happy in my life. I got that pin, and I couldn't even be intense I was so happy."
The true freshman from Broken Arrow found himself down 8-1 early in the first period – right after senior Nick Piccininni won the opening match at 125 pounds by a 3-2 decision – but managed a late takedown before the buzzer to chip it down to 8-5 heading into the second.
Having claimed the momentum, Witcraft elected to take the bottom position and got the quick escape. Once on his feet, Witcraft got a takedown and was able to wrap up the cradle to get the pin of Minnesota's Brent Jones midway through the second period.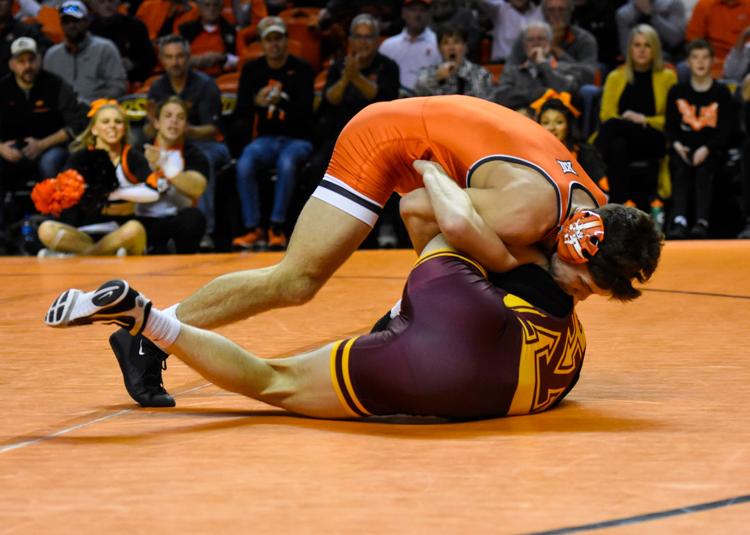 "It was good to see Reece pick up the escape, get a takedown and change the momentum," Cowboy coach John Smith said. "You have to create the opportunity to pin someone. You're not going to just go throw them on their backs. You have to score some points … let them know you're coming, and he did a good job of getting back in the match, being competitive and found himself in a familiar position where he took him to his back and held him there."
Witcraft was one of five Cowboy wrestlers making their Gallagher-Iba Arena debut, but was one of just two to earn the victory in front of the home crowd.
And just like with Witcraft, redshirt freshman Travis Wittlake Jr. had to rally to wrap up his win at 165 pounds.
Giving up a takedown in the first period, Wittlake battled from behind the entire match. The only scoring in the second period was an escape by his opponent, Bailee O'Reily, out of the bottom position.
It wouldn't take Wittlake long to get out in front in the third period, though, with a quick escape and takedown. The Coos Bay, Oregon, native rode out the period to get the 5-3 decision with the riding time bonus point.
"Coach preaches pressure – pressure, pressure, pressure," Wittlake said. "He wants us to keep pressuring in all our matches, keep moving forward no matter what the score is. … That was my mentally, I've got to keep moving forward and I've got to score.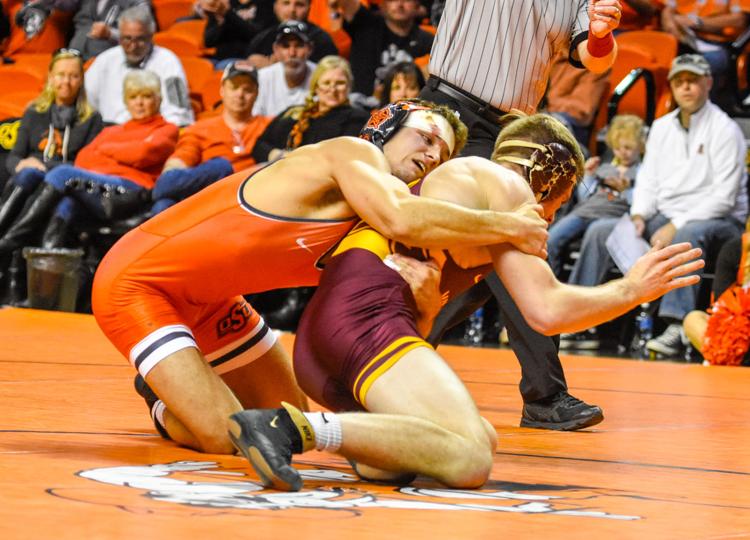 "I knew that guy was breathing hard, he was hurting and he was ready to be done. So that's when my pace picks up and I go in to finish the match. That was a big takedown for sure."
The win for Wittlake – his seventh of the season – was the third of three-straight wins for the Cowboys in the dual.
Prior to the win at 165, Oklahoma State got a couple of easy decisions by veterans Boo Lewallen at 149 – an 8-3 decision against Brayton Lee in a top-10 matchup – and an 8-1 decision for Wyatt Sheets at 157 pounds.
"I was a little bit concerned when he got taken down at the end of the second, but he took it to another level on top and picked up a turn, and that was the difference," Smith said of Lewallen, who got a nearfall in the third period to extend his advantage. "Those are exciting matches to watch. You're always talking about separating the score against your opponent, but when that doesn't happen you have to dig deep and find ways to win, which he did a good job of."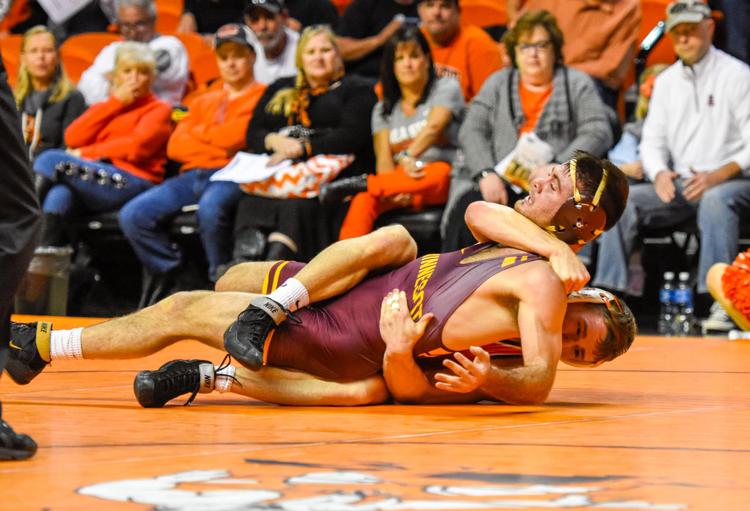 The three wins were flanked by loses from Dusty Hone, who was making his GIA debut, at 141 pounds, and Andrew Shomers, who fell 5-2 to No. 10-ranked Devin Skatzka.
The only upset of the dual came at 184 pounds where No. 18-ranked Anthony Montalvo – the fourth Cowboy to make his home debut – lost by 4-3 decision to unranked Owen Webster at 184 pounds.
"He really takes pride in his conditioning level, but he needs to continue to focus on putting points up," Smith said. "That's mentally how you wear people down, by scoring points. … It wasn't a good effort, he's better than that. And he needs to refocus and recognize that we've got to put some points up."
Dakota Geer prevented Oklahoma State from closing out the dual with four-straight losses by winning at 197 pounds. The No. 8-ranked wrestler at 197 gave up a reversal in the first period for the only points allowed in a 7-2 decision.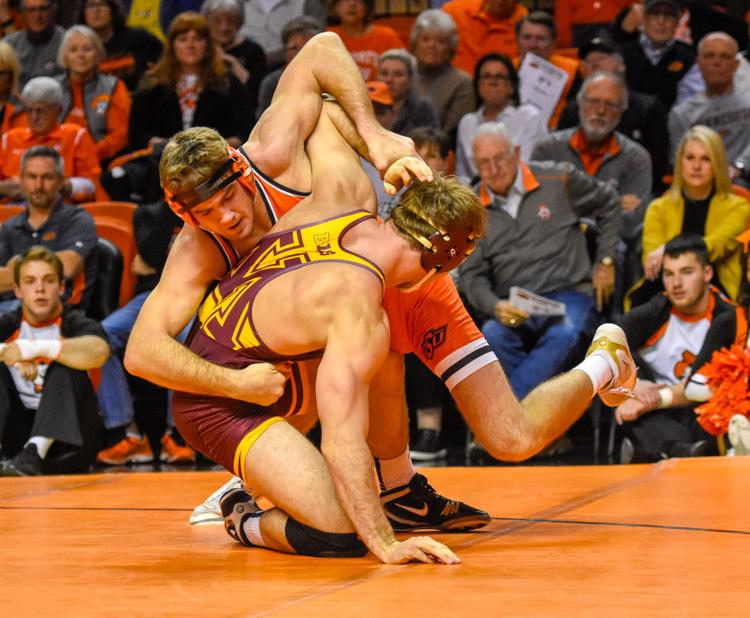 The Cowboys then lost at heavyweight with Minnesota's Robert Steveson – the older brother of All-American Gable Steveson, who is suspended by the Gophers as he's been under investigation on suspicion of criminal sexual conduct – knocking off Austin Harris by 11-5 decision.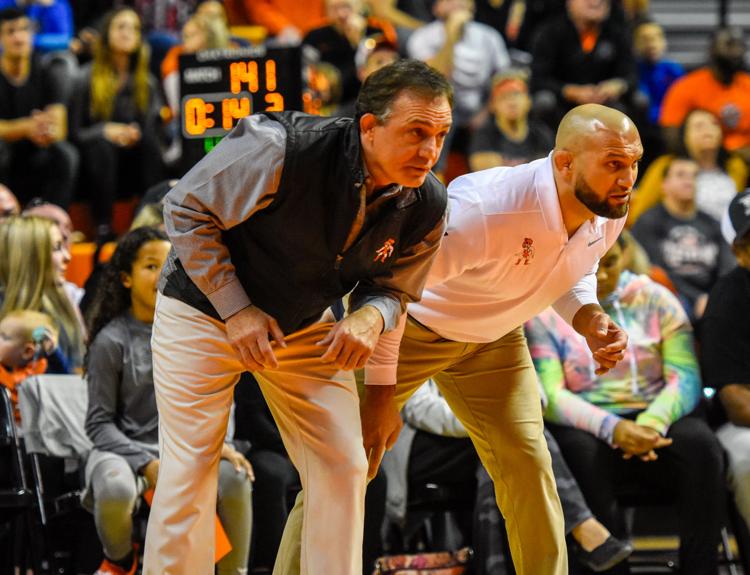 The Cowboys will not compete again for nearly two weeks, with its next dual being a home match with Princeton on Dec. 6.
"For this team, right now, having a Thanksgiving weekend off is probably not good for us," Smith said. "We're going to utilize it by creating some competition in our room. That's what these guys need. We really need to be wrestling, and need to be getting experience."